Racist States of Mind: Understanding the Perversion of Curiosity and Concern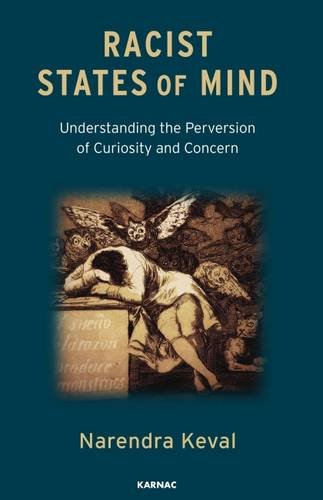 Book Details
Publisher : Routledge
Published : January 2016
Cover : Paperback
Pages : 176
Category :
Psychotherapy and Politics
Category 2 :
Psychoanalysis
Catalogue No : 32748
ISBN 13 : 9781780490748
ISBN 10 : 1780490747
Racism is a treacherous phenomenon with many faces that allow it a remarkable capacity to co-exist with support for ethnic and cultural diversity. In both its subtle and virulent forms, racist states of mind reveal a bewildering mix of anxieties, feelings and fantasies about the real complexities of life and living that a recognition of difference and diversity can potentially bring forth. These are often expressed in a nostalgic gaze that is infused with a toxic interplay of grievance, murderous rage, and vengeful feelings and fantasies that have resulted from a real or imagined narcissistic injury to the self, group, or nation.
In a racist state of mind grief and mourning for such losses are replaced by manic omnipotent states which aim to triumph over feelings of powerlessness through an inflated sense of self that claims superiority over others who are made to become the bearers of inadequacy or inferiority. The compensatory excitements of hatred, cruelty, and violence can lead to a collapse of a triangular mental space that damages the capacity for curiosity and concern for others. The tragic consequences of this psychic assault is a rupture at the very core of identity and the self which aims to thwart the desires and emotional freedom of others.
In this book the author explores the quality of thinking in racist states of mind and suggests that the fantasy dramas of the primal scene provide an essential framework in which racial and racist fantasies exist as deep structures of thought and feeling. These are intrinsic to psychic life and functioning, universally present in contemporary culture as well as the consulting room where they constitute the passions of the transference. The author explores the predicaments and challenges of engaging with these states of mind in the consulting room, group, organisational, and societal life.
Reviews and Endorsements
'This is a wonderfully lucid, accessible and profound book. Keval's understanding of racist mindsets – the "racist scene" is, for him, a variant of the primal scene, saturating it with complex layers of meaning – brings clarity and depth to a topic that is easily bogged down in hatred or political correctness. This understanding, deployed with sensitivity and compassion in the face of racist phenomena in the consulting room and elsewhere, counteracts racism's malignant power, restoring freedom – of thought and feeling – and authenticity. His voice is an eloquent riposte to the bigotry contained in Enoch Powell's "Rivers of blood" speech, aimed as it was at the likes of him. It is a triumph of human compassion and reason over the forces of racialised hatred. The sensitivity and breadth of his clinical observations, and clarity of thought, make this book required reading for professionals working across boundaries of ethnicity in today's multicultural world.'
––M. Fakhry Davids, Training and Supervising Analyst, British Psychoanalytical Society, and author of Internal Racism: A Psychoanalytic Approach to Race and Difference

'This book examines aspects of racism and ethnic problems in individuals, organisations and societies and offers a theory about why we all have the potential to have prejudice against the Other. Psychotherapists and psychoanalysts, in general, have not given the necessary attention to external events related to race and ethnicity. At the present time incredible advances in communication technology and global awareness are taking place while voluntary and forced migrations create major headaches and heartbreaks. I consider Keval's book to be most helpful in increasing our interest and our ability to examine the psychology of how external and internal worlds intertwine.'
––Vamik D. Volkan, Emeritus Professor of Psychiatry, University of Virginia, and the author of Psychoanalysis, International Relations, and Diplomacy: A Sourcebook on Large-Group Psychology
About the Author(s)
Narendra Keval qualified as a clinical psychologist and trained as an adult and adolescent psychotherapist at the Tavistock Clinic, London. He also worked as a specialist in psychoanalytic psychotherapy in a range of outpatient settings, working in particular with patients suffering from complex personality disorders. He has been a clinical supervisor, trainer, and visiting senior lecturer at various universities and training institutes both in the UK and South Africa, and a consultant to staff teams in a range of organisations in the private and public sector on issues such as trauma and suicidal risk.

From 2006-08 he was involved in the psychodynamic teaching on the clinical psychology training program at University of Cape Town and University of Western Cape, South Africa. He has also been a guest member and clinical supervisor in the Cape Town Society for Psychoanalytic Psychotherapy; clinical director and consultant psychotherapist on the Doctoral Training Program in Clinical Psychology at the University of East Anglia; and senior lecturer at the Centre for Psychoanalytic Studies at University of Essex. He is currently in full time private practice in London.
You may also like