Psychotherapy Essentials to Go: Cognitive Behavior Therapy for Depression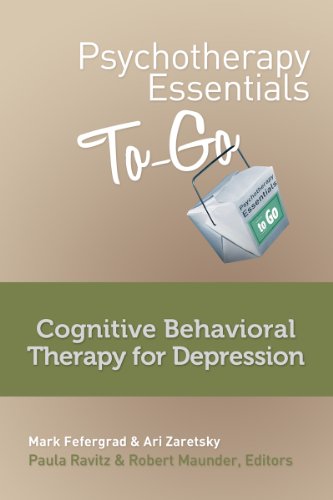 Book Details
Publisher : W.W.Norton
Published : 2013
Cover : Paperback
Category :
Cognitive-Behavioural Therapies
Catalogue No : 34311
ISBN 13 : 9780393708288
ISBN 10 : 0393708284
Also by Eli Zaretsky
Also by Mark Fefergrad
Also by Paula Ravitz
Rigorously field-tested by on-the-ground clinicians, this guidebook provides an easy-to-use, evidence-based summary of Cognitive Behavior Therapy (CBT) to treat depression. CBT is a standard method of therapy treatment that all clinicians need to know how to practice, and this concise guide lays out the basics so any clinician can implement it. Self-questionnaires, case studies, role play transcripts, diagrams, exercises, and worksheets make it easy for front-line case workers and therapists of all kinds to learn the fundamentals of this treatment modality and put it to use immediately.
About the Author(s)
Eli Zaretsky is a professor of history at the New School for Social Research. His previous works include Why America Needs a Left: A Historical Argument; Secrets of the Soul: A Social and Cultural History of Psychoanalysis; and Capitalism, the Family, and Personal Life.
Paula Ravitz, MD, is Associate Professor, Morgan Firestone Psychotherapy Chair, and Associate Director of the Psychotherapy, Health Humanities, and Education Scholarship Division for the Department of Psychiatry at the University of Toronto, where she leads IPT training. She is also the director of the Mt. Sinai Psychotherapy Institute. Her clinical practice, teaching, and research focus on IPT and attachment informed psychotherapy.
Robert Maunder, MD, is Associate Professor in the Department of Psychiatry at the University of Toronto and head of research for Mount Sinai Hospital's Department of Psychiatry. His primary research interest is the role of interpersonal attachment on health.
You may also like