Psychotherapy: A Very Short Introduction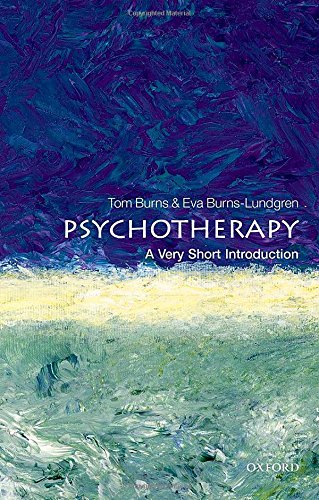 Book Details
Publisher : Oxford University Press
Published : 2015
Cover : Paperback
Pages : 152
Category :
Individual Psychotherapy
Catalogue No : 38009
ISBN 13 : 9780199689361
ISBN 10 : 0199689369
Also by Tom Burns
Psychotherapy and counselling are now widely available to help people overcome emotional and psychological difficulties in their lives. They involve spending time with a professional in an emotionally safe and structured relationship to explore and express the issues that cause distress and difficulty, whether long term self-doubts, relationship problems, or the impact of a trauma or crisis. As a society, we now take this focus on talking through and understanding our identity and relationships for granted, but it is hardly more than a century old.
In this Very Short Introduction, Tom Burns and Eva Burns-Lundgren trace the development of psychotherapy from its origins in Freud's psychoanalysis to the range of different approaches - counselling, cognitive behaviour therapy, and other time-limited therapies, mindfulness, group and family therapies, and many more. Describing the processes central to them all and highlighting their differences, they demonstrate what problems each therapy are best suited for. They explain the principles behind the most commonly available types of psychotherapies and provide examples of what patients can expect when they seek such help. They conclude by examining the practice of psychotherapy - the types of training psychotherapists have, the safeguards that exist to keep practice reliable, and how one goes about choosing a psychotherapist.
About the Author(s)
Tom Burns is Professor of Social Psychiatry at Oxford University. From the late 1980s he has conducted research, in addition his clinical and teaching work, and has produced nearly 200 peer-reviewed scientific articles. His work into Assertive Community Treatment care for severe psychosis, home based care for general psychiatry, and services to help patients with schizophrenia return to work, has been internationally important. He is currently researching a number of aspects of the doctor-patient relationship, especially those which are experienced as unequal or coercive.
Eva Burns-Lundgren trained as a social worker in Sweden in the 1970s, and went on to practise as a generic and mental health social worker in the UK, before retraining as a psychotherapist in the 1990s. She is accredited as psychotherapist in the UK with the UKCP and ACAT, and also with the European Association for Psychotherapy. She has practised within university and national health service settings and for 10 years ran the university accredited Cognitive Analytic Therapy course in Oxford. She is now retired from the NHS but continues to practise privately and in a trainer and examiner capacity.
You may also like