Psychosis, Psychiatry and Psychospiritual Considerations: Engaging and Better Understanding the Madness and Spiritual Emergence Nexus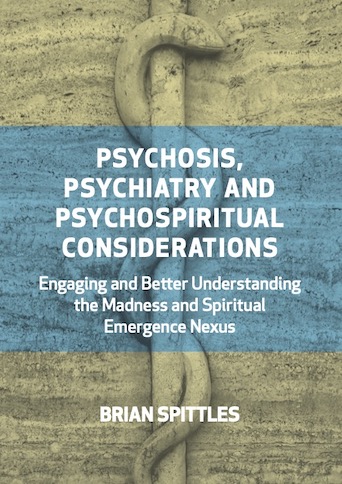 Book Details
Publisher : Aeon Books
Published : November 2022
Cover : Paperback
Pages : 378
Category :
Clinical Psychology
Catalogue No : 97040
ISBN 13 : 9781801520157
ISBN 10 : 1801520151
A phenomenological and spiritual investigation of anomalous mental experiences.
From a psychiatric perspective, psychosis is generally viewed as a psychopathological and often incomprehensible mental disorder of biological cause. In his book, Brian Spittles argues that this represents a rather limited view, and that a psychospiritual investigation of psychosis may enable a better understanding of its nature and determinants. His aim is not to negate the discipline of psychiatry, but to demonstrate the viability and efficacy of incorporating psychospiritual considerations into psychosis research.
Within these pages, Spittles challenges several core psychiatric beliefs, and calls for the discipline to extend its investigative parameters beyond the limited epistemological bounds of materialism. The book uses an open-ended heuristic approach that enables the systematic examination and critical appraisal of views on psychosis across the materialist-to-metaphysical spectrum. This is structured in four 'Focal Settings' that sequentially examine the construal of psychosis within different paradigms of psychospiritual understanding, which provide a historical overview of evolving understandings of psychosis within the tradition of psychiatry, in which psychospiritual matters are generally not considered.
About the Author(s)
Dr Brian Spittles is a member of the Emergent Phenomenology Research Consortium which aims to integrate clinical, scientific, and spiritual paradigms to improve therapeutic outcomes. His research interests are eclectic and multidisciplinary. These include consciousness studies, transpersonal psychology, psychosis, mental health recovery, quantum physics, meditation, Buddhism, shamanism, mysticism, nature studies, and indigenous knowledge/healing systems. Brian is also involved in the climate emergency, environmental protection, and social justice arenas.
You may also like