Psychology After Lacan: Connecting the Clinic and Research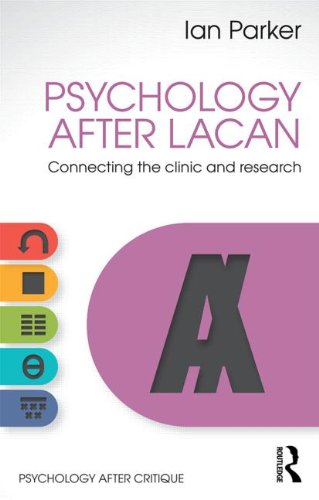 Book Details
Publisher : Routledge
Published : 2014
Cover : Paperback
Pages : 152
Category :
Lacanian Psychoanalysis
Catalogue No : 35827
ISBN 13 : 9781848722170
ISBN 10 : 1848722176
Also by Ian Parker


Why is Lacanian psychoanalysis now appearing in psychology? What innovative account does it offer of the human subject? What are the implications for psychology as a separate discipline? This volujme reviews the significance of Jacques Lacan's work for a new generation of psychologists, and shows how psychoanalysis in its Lacanian variant questions underlying assumptions made about the human subject in the discipline. Unlike much rather esoteric Lacanian writing, this book is written from a psychology perspective and the accounts of different aspects of Lacan's work are designed to be accessible to those in the discipline looking for new ideas.
The book brings together for the first time a series of papers first published in scattered publications for different audiences and reworks them into a systematic argument. An introduction traces the re-emergence of psychoanalytic ideas in general, and the emergence of Lacanian ideas in particular inside psychology. The scope of the introduction, and of the book as a whole, is international, locating Lacan's work in the context of new debates taking place in the English-speaking world, and showing how these debates draw upon different conceptual investigations of subjectivity in other cultures.
About the Author(s)
Ian Parker is Professor of Psychology in the Discourse Unit at Manchester Metropolitan University, UK. He is widely published, and his books include The Crisis in Modern Social Psychology (1989), Psychoanalytic Culture: Psychoanalytic Discourse in Western Society (1997), Critical Discursive Psychology (2002), Slavoj Zizek: A Critical Introduction (2004) and Psychoanalytic Practice and State Regulation (2008).
You may also like