Psychological Therapies in Acquired Brain Injury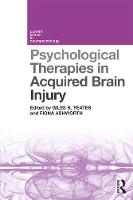 Book Details
Publisher : Routledge
Published : December 2019
Cover : Paperback
Pages : 200
Category :
Neuroscience
Category 2 :
Trauma and Violence
Catalogue No : 94867
ISBN 13 : 9781138581265
ISBN 10 : 1138581267
Also by Giles Yeates

The psychological impact of an acquired brain injury (ABI) can be devastating for both the person involved and their family. This book describes the different types of psychological therapies used to ameliorate psychological distress following ABI. Each chapter presents a new therapeutic approach by experts in the area. Readers will learn about the key principles and techniques of the therapy alongside its application to a specific case following ABI. In addition, readers will gain insight into which approach may be most beneficial to whom as well as those where there may be additional challenges.
Covering a wide array of psychological therapies, samples range from more historically traditional approaches to those more recently developed. Psychological Therapies in Acquired Brain Injury will be of great interest to clinicians and researchers working in brain injury rehabilitation, as well as practitioners, researchers and students of psychology, neuropsychology and rehabilitation.
About the Editor(s)
Dr Giles Yeates is principal clinical neuropsychologist and also a couples psychotherapist at the Community Head Injury Service, Aylesbury. His clinical work involves psychological therapy and cognitive rehabilitation with survivors of brain injury in individual and group formats. In addition he works within the family service to provide couples and family sessions, including work with child relatives. Dr Yeates is also an active researcher and author within the areas of social neuroscience, interpersonal relationships, neuropsychoanalysis, social context, psychological therapies and qualitative research following brain injury.
You may also like