Psychoanalytic Work with Children in Hospital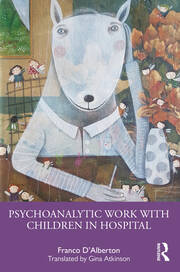 Psychoanalytic Work with Children in Hospital presents the experiences of a psychoanalyst working within a hospital paediatric department.
It explores the possibilities for applying psychoanalytic theory when working with children in hospital and how it can be extended to include parents, caregivers, health care staff and volunteers. Each chapter of the book addresses an issue or area of professional experience that presented Franco D'Alberton with clinical or technical questions, outlining the core concern and then exploring his attempt to provide answers to these questions. This volume presents many possible applications of psychoanalytic theory in a paediatric hospital, encompassing issues encountered by health care staff and volunteers as well as by parents and their hospitalized children, such as physical pain, meetings and information sharing and group settings. It also describes therapeutic interventions directed towards both children and parents.
This book will be key reading for child and adolescent psychoanalysts, psychotherapists, and clinical psychologists in practice and in training. It will also interest clinicians seeking to understand how psychoanalytic work can be applied in hospital and health care settings.
Reviews and Endorsements
'In a period when psychoanalysis is often under attack, this book comes as a real breath of fresh air. Beyond more typical psychoanalytic treatment, psychoanalysis conducted without a couch, in the hospital, continues to be of immense help to children and their families in making sense of their symptoms and in better understanding how development is affected by suffering. We owe a debt of gratitude to Franco D'Alberton for proceeding in the wake of Anna Freud's pioneering work, against all odds, to accomplish this important clinical psychoanalytic work.' - Bernard Golse, Emeritus Professor of Child Psychiatry (University of Paris), Psychoanalyst (APF) and President of the European Association for Child and Adolescent Psychopathology, France.

'It is a pleasure to recommend Dr. Franco D'Alberton's book to a wide readership of health care professionals including paediatricians, nurses, and psychotherapists. Dr. D'Alberton succeeds in expounding to the reader several major strands in his thinking; one is how the clinician can open up a space for reflection on emotions and the unconscious implications of somatic symptoms in a child. A second strand concerns how somatic illness in a child can affect the entire family. The third is to give clinical accounts of his consultation work at paediatric centres with a methodology that he describes in a vivid and warm way. All in all, his idea of "bringing the psychoanalytic couch to the children's hospital", that is, introducing a mind-opening perspective to patients and clinicians alike, is equally interesting and important.' - Björn Salomonsson, Child psychoanalyst (IPA), Associate professor child psychiatry, Karolinska Institutet, Stockholm.
About the Author(s)
Franco D'Alberton is a child and adolescent psychoanalyst, and a member of the Italian Psychoanalytic Society and the International Psychoanalytic Association.
You may also like