Psychoanalytic Theory, Therapy and the Self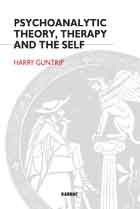 Book Details
Publisher : Routledge
Published : 1985
Cover : Paperback
Pages : 220
Category :
Psychoanalysis
Catalogue No : 751
ISBN 13 : 9780946439157
ISBN 10 : 094643915X
Also by Harry Guntrip

Psychoanalytic Theory, Therapy and the Self presents, in a readily accessible form, the overall theoretical position adopted by Harry Guntrip in his two earlier books Personality Structure and Human Interaction (1961) and Schizoid Phenomena, Object Relations and the Self (1968).
Part One, addressing itself to theoretical issues in psychoanalysis, traces the changes which have occurred in psychodynamic thought since Freud's early conjectures, reflecting the physicality mode of scientific thought in which he had been trained and typified by the theory of instincts have been largely modified or superseded by the contributions of object-relations theory.
Part Two, based on a series of seminars devoted to the structure and treatment of the schizoid personality, puts the theoretical issues discussed in Part One into perspective of therapeutic practice.
About the Author(s)
Harry Guntrip (1901–1975) was a psychologist known for his major contributions to object relations theory. He was a Fellow of the British Psychological Society and a psychotherapist and lecturer at the Department of Psychiatry, Leeds University, and also a Congregationalist minister. He was described by John D. Sutherland as ""one of the psychoanalytic immortals"".
You may also like