Psychoanalytic Supervision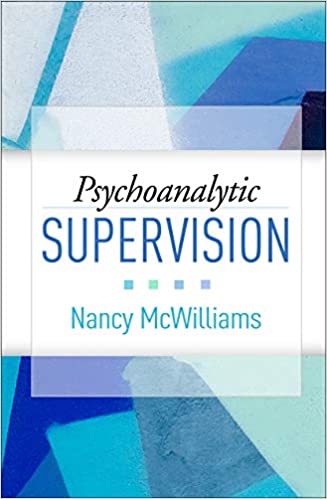 Book Details
Publisher : Guilford Press
Published : November 2021
Cover : Hardback
Pages : 237
Category :
Psychoanalysis
Category 2 :
Supervision
Catalogue No : 96035
ISBN 13 : 9781462547999
ISBN 10 : 1462547990
Also by Nancy McWilliams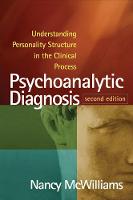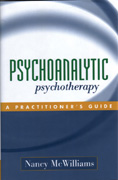 Drawing on deep reserves of experience and theoretical and research knowledge, Nancy McWilliams presents a fresh perspective on psychodynamic supervision in this highly instructive work. McWilliams examines the role of the supervisor in developing the therapist's clinical skills, giving support, helping to formulate and monitor treatment goals, and providing input on ethical dilemmas. Filled with candid clinical examples, the book addresses both individual and group supervision.
Special attention is given to navigating personality dynamics, power imbalances, and various dimensions of diversity in the supervisory dyad. McWilliams guides mentors and mentees alike to optimize this unique relationship as a resource for lifelong professional learning and growth.
Reviews and Endorsements
"A 'must read' for all mental health professionals. This is the most valuable book on the subject that I have ever read. McWilliams is a master teacher. She seems to have read and thoroughly mastered every source on psychoanalytically oriented supervision. Without ever condescending to the reader, she shares complex ideas that will be highly compelling to both beginners and experienced therapists. This book is a gem--don't miss it!"-- Glen O. Gabbard, MD, Clinical Professor of Psychiatry, Baylor College of Medicine.

"McWilliams has done it again: here she takes on the subject of supervision with the same sharp and refined eye that she has brought to diagnosis, case formulation, and the challenge of being a psychodynamic practitioner. McWilliams offers a passionate defense of the judgment, wisdom, and mentalizing capacity that supervision requires, whether working with individuals, groups, or within institutes. She pays close attention to the self-esteem of beginning clinicians, emphasizing both the liability and inevitability of moments of shame. At the heart of this book is a well-articulated commitment to maintaining an ethical sensibility. Given McWilliams's inviting prose, and her candor in revealing personal experiences, this book will have an extraordinarily wide reach." - Elliot Jurist, PhD, Professor of Psychology and Philosophy, The City College of New York and The Graduate Center, The City University of New York.

"This is far and away the best discussion of clinical supervision I have ever seen. McWilliams distills a lifetime of clinical understanding and wisdom into lucid, gorgeous, and remarkably accessible prose. I recommend this book to clinicians of any level of experience who provide supervision to others, to clinicians receiving it, and, for that matter, to anyone seeking a deeper understanding of what truly meaningful psychotherapy looks like at its very best. A masterpiece." - Jonathan Shedler, PhD, Clinical Professor of Psychiatry, University of California, San Francisco.

"McWilliams offers a visionary framework for contemporary psychoanalytic supervision, compelling the reader toward wisdom and compassion as guiding forces. This book centers the humanity of the supervisee and the supervisor, honoring their resilience even while bearing suffering and the unknown. Riveting illustrations of supervisor-supervisee dynamics are used to engage a more complex and vibrant understanding of teaching and mentoring. This is a critical read for therapists and supervisors of any theoretical orientation who are dedicated to collaborative training and practice." - Pratyusha Tummala-Narra, PhD, Director of Training, Counseling Psychology Doctoral Program, Boston College.
About the Author(s)
Nancy McWilliams, PhD, ABPP, teaches in the Graduate School of Applied and Professional Psychology at Rutgers, The State University of New Jersey, and has a private practice in Lambertville, New Jersey. She is author of Psychoanalytic Diagnosis: Second Edition; Psychoanalytic Case Formulation; Psychoanalytic Psychotherapy; and Psychoanalytic Supervision; and is coeditor of Psychodynamic Diagnostic Manual: Second Edition. She is a past president of the Society for Psychoanalysis and Psychoanalytic Psychology, Division 39 of the American Psychological Association (APA), and is on the editorial board of Psychoanalytic Psychology. A graduate of the National Psychological Association for Psychoanalysis, Dr. McWilliams is also affiliated with the Center for Psychotherapy and Psychoanalysis of New Jersey, and serves on the Board of Trustees of the Austen Riggs Center in Stockbridge, Massachusetts.

She is the recipient of honors including the Gradiva Award from the National Association for the Advancement of Psychoanalysis; the Goethe Scholarship Award from the Section on Psychoanalytic and Psychodynamic Psychology of the Canadian Psychological Association; the Rosalee Weiss Award from the Division of Independent Practitioners of the APA; the Laughlin Distinguished Teacher Award from the American Society of Psychoanalytic Physicians; the Hans H. Strupp Award from the Appalachian Psychoanalytic Society; and the International, Leadership, and Scholarship Awards from APA Division 39. Dr. McWilliams is an honorary member of the American Psychoanalytic Association, the Moscow Psychoanalytic Society, the Institute for Psychoanalytic Psychotherapy of Turin, Italy, and the Warsaw Scientific Association for Psychodynamic Psychotherapy. Her writings have been translated into 20 languages.
You may also like