Psychoanalytic Insights into Social, Political, and Organizational Dynamics: Understanding the Age of Trump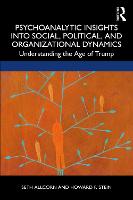 Book Details
Publisher : Routledge
Published : August 2021
Cover : Paperback
Pages : 229
Category :
Psychoanalysis
Category 2 :
Psychotherapy and Politics
Catalogue No : 95858
ISBN 13 : 9781032005393
ISBN 10 : 9781032005
Also by Seth Allcorn
Also by Howard F. Stein
This fascinating interdisciplinary work explores U.S. politics since 2015 and offers psychodynamic insights into the unconscious undercurrents of contemporary culture and politics in the United States.
Allcorn and Stein expertly lead readers up the steep learning curve of understanding the Trump era by exploring seven key elements of recent political dynamics. Using the complementary psychodynamic models of object relations, Group Relations and Karen Horney's tripartite theory, this book makes sense of the Age of Trump and its chaotic world of alternate facts, conspiracy theories, reality TV politics, hoax pandemics, and the sweeping chaos of life in the United States. This sense-making relies on two triangulations. The first represents the complex systemic political scene. The second uses three psychoanalytic theories to understand social, political, and organizational dynamics. This book is a key resource for helping readers know and understand ourselves, our fellow citizens, colleagues, family, friends and what Trump and his followers call "them" such as liberals and foreign immigrants, as well as both the larger polarized social and political context in the United States today. The book also provides concrete examples of how these discoveries can be operationalized both in organizations and at the level of national government and leadership.
This book is an essential reading for students in organizational behavior including leadership and how governments operate, as well as behavioral health professionals consulting or offering therapy to organizations.
About the Author(s)
Seth Allcorn is the former Vice President for Business and Finance at the University of New England in Biddeford, Maine. Dr. Allcorn has more than 20 years of experience working with physicians, hospitals and academic medical centers and organizational consultant specializing in the management of change, strategic planning, and organizational restructuring. He is a founding member of the International Society for the Psychoanalytic Study of Organization.
Howard F. Stein is an organizational, applied, psychoanalytic, and medical anthropologist, psychohistorian, organizational consultant, and poet. He is Professor Emeritus of Family and Preventive Medicine at the University of Oklahoma Health Sciences Center in Oklahoma City, Oklahoma, where he taught for nearly 35 years. He facilitated the American Indian Diabetes Prevention Center's meetings from 2012 to 2017. He is a long-time member of the International Psychohistorical Association.
You may also like