Psychoanalytic and Historical Perspectives on the Leadership of Donald Trump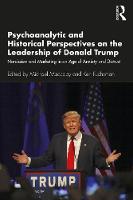 Book Details
Publisher : Routledge
Published : May 2020
Cover : Paperback
Pages : 180
Category :
Psychoanalysis
Catalogue No : 95083
ISBN 13 : 9780367426484
ISBN 10 : 9780367426
Also by Michael Maccoby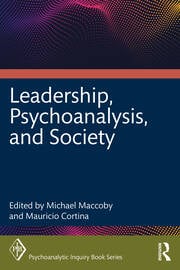 Also by Ken Fuchsman
What is Donald Trump's personality? Is he mentally ill? What in American culture and history enabled him to become president? How does his personality shape his policies and leadership?
In this fascinating and highly relevant new book, these questions are answered by a selection of expert contributors, including psychoanalysts, historians, and a sociologist. Narcissism is defined and applied to Donald Trump, his personal history and style of leadership, and the relationship between Trump and his base is explored as a symptom of his needs and the needs of his followers. U.S. culture and U.S. politics are put under the lens, as chapters draw on contemporary academic and journalistic analysis, continuing discussions around gaslighting, demagoguery, and fascism in terms of their validity in application to Trump.
Psychoanalytic and Historical Perspectives on the Leadership of Donald Trump refutes many of the mental health experts who label Trump as suffering from a narcissistic personality disorder and makes the case that Trump's personality combines a marketing and narcissistic orientation that determines his behavior and policies. The authors also assert that to understand Trump's rise and his followers, it is valuable to combine psychoanalytic, historical, and sociological perspectives. This book will therefore be of great interest to academics in those fields and all those with an interest in contemporary American politics..
About the Editor(s)
Michael Maccoby, PhD, is a psychoanalyst and anthropologist who is a globally recognized expert on leadership. He has taught or consulted to leaders in 36 countries and has taught leadership at Oxford's Saïd Business School, Sciences Po, and Harvard's Kennedy School. He is also the author/co-author of 16 books.
More titles by Michael Maccoby
Ken Fuchsman (EdD) was President of the International Psychohistorical Association from 2016 to 2020. He is Emeritus faculty from the University of Connecticut, where he taught American history, interdisciplinary studies, the nature of being human, and the family in interdisciplinary perspective, and was Executive Programme Director of the Bachelor of General Studies Programme. Along with Michael Maccoby, Dr Fuchsman co-edited Psychoanalytic and Historical Perspectives on the Leadership of Donald Trump.
You may also like