Psychoanalysis Under Nazi Occupation: The Origins, Impact and Influence of the Berlin Institute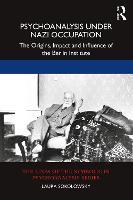 Book Details
Publisher : Routledge
Published : October 2021
Cover : Paperback
Pages : 252
Category :
Psychoanalysis
Catalogue No : 95900
ISBN 13 : 9781032105192
ISBN 10 : 9781032105
Laura Sokolowsky's survey of psychoanalysis under Weimar and Nazism explores how the paradigm of a 'psychoanalysis for all' became untenable as the Nazis rose to power.
Mainly discussing the evolution of the Berlin Institute during the period between Freud's creation of free psychoanalytic centres after the founding of the Weimar Republic and the Nazi seizure of power in 1933, the book explores the ideal of making psychoanalysis available to the population of a shattered country after World War I, and charts how the Institute later came under Nazi control following the segregation and dismissal of Jewish colleagues in the late 1930s. The book shows how Freudian standards resisted the medicalisation of psychoanalysis for purposes of adaptation and normalisation, but also follows Freud's distinction between sacrifice (where you know what you have given up) and concession (an abandonment of position through compromise) to demonstrate how German psychoanalysts put themselves at the service of the fascist master, in the hope of obtaining official recognition and material rewards.
Discussing the relations of psychoanalysis with politics and ethics, as well as the origin of the Lacanian movement as a response to the institutionalisation of psychoanalysis during the Nazi occupation, this book is fascinating reading for scholars and practitioners of psychoanalysis working today.
Reviews and Endorsements
"'It is to the political credit of psychoanalysis', wrote Michel Foucault in the History of Sexuality, that in contrast to psychiatry and the German psychotherapy of the Nazi years, the 'Freudian endeavour' remained 'in theoretical and practical opposition to fascism'. In this magisterial historical work, Laura Sokolowsky details how the Berlin Psychoanalytic Institute resisted attempts to replace psychoanalysis with therapies based on identification and suggestion, practices more conducive to totalitarianism. In so doing she draws some significant lessons about the current travails of psychoanalysis in the context of contemporary politics and the prevailing state of the discourse of the master." - Scott Wilson, Professor of Media and Communication, Kingston School of Art, London.

"Laura Sokolowsky has given us that precious thing - a history which illuminates the urgent stakes of our present. Detailing the socially engaged innovations that marked the Berlin Psychoanalytic Institute's first flowering during the Weimar years, but also tracking its painful compromises with a Nazi regime that burned Freud's books, this lucid work provides us with a reminder: to remain subversive, psychoanalysis must be guided not by state power but by the desire of Freud and Lacan. In an era of the neoliberalisation of health, Laura Sokolowsky's brilliantly evoked history could not be more timely." - Colin Wright, Associate Professor of Critical Theory, University of Nottingham.
About the Author(s)
Laura Sokolowsky is a psychoanalyst and member of the Ecole de la Cause Freudienne and the World Association of Psychoanalysis. She is the current director of the psychoanalytical journal La Cause du desir.
You may also like