Psychoanalysis, Neuroscience and Adolescent Development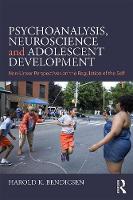 Book Details
Publisher : Routledge
Published : February 2019
Cover : Paperback
Pages : 206
Category :
Psychoanalysis
Category 2 :
Neuroscience
Catalogue No : 94196
ISBN 13 : 9780367134969
ISBN 10 : 9780367134
Also by Harold K. Bendicsen
Psychoanalysis, Neuroscience and Adolescent Development: Non-Linear Perspectives on the Regulation of the Self explores how psychoanalysis can combine its theoretical perspectives with more recent discoveries about neurological and non-linear developmental processes that unfold during the period of puberty to young adulthood, to help inform understanding of contemporary adolescent behaviours and mental health issues. With the powerful impact of neuroscience research findings, opportunities emerge to create a new paradigm to attempt to organize specific psychoanalytic theories. Neurobiological regulation offers such an opportunity. By combining elements of domains of compatible knowledge into a flexible explanatory synergy, the potential for an intellectually satisfying theoretical framework can be created.
In this work, Harold Bendicsen formulates a multi-disciplinary theoretical approach involving current research and drawing on neuroscience to consider the behaviour regulation processes of the mind/brain and the capacities and potential it brings to understanding the development of adolescents and young adults. Psychoanalysis, Neuroscience and Adolescent Development advances Bendicsen's study of adolescence and the transition to young adulthood, begun in The Transformational Self. It will be of great interest to psychoanalysts and psychoanalytic psychotherapists, as well as psychologists, clinical social workers, psychiatrists and counsellors.
About the Author(s)
Harold K. Bendicsen, LCSW, BCD, is a clinical social worker who maintains a private practice in Elmhurst, Illinois. He holds a certificate in Child and Adolescent Psychoanalytic Psychotherapy from the Chicago Institute for Psychoanalysis. He has held clinical, supervisory, and administrative positions in child welfare agencies, residential treatment centers, and social service agencies. He is Adjunct Professor at Loyola University Chicago School of Social Work and a member of the faculty of the Child and Adolescent Psychoanalytic Psychotherapy Training Program at the Chicago Institute for Psychoanalysis.
You may also like