Psychoanalysis Meets Psychosis: Attachment, Separation, and the Undifferentiated Unintegrated Mind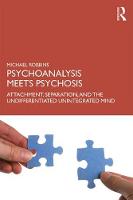 Book Details
Publisher : Routledge
Published : April 2019
Cover : Paperback
Pages : 196
Category :
Psychoanalysis
Catalogue No : 94349
ISBN 13 : 9780367191177
ISBN 10 : 0367191172
Also by Michael Robbins
Psychoanalysis Meets Psychosis proposes a major revision of the psychoanalytic theory of the most severe mental illnesses including schizophrenia. Freud believed that psychosis is the consequence of a biologically determined inability to attain and sustain a normal or neurotic mental organization. Michael Robbins proposes instead that psychosis is the outcome of a different developmental pathway. Conscious mind functions in two qualitatively different ways, primordial conscious mentation and reflective representational thought, and psychosis is the result of persistence of a primordial mental process, which is adaptive in infancy, in later situations in which it is neither appropriate nor adaptive.
In Part I Robbins describes how the medical model of psychosis underlies the current approach of both psychiatry and psychoanalysis, despite the fact that neuroscience has failed to confirm the model's basic organic assumption. In Part II Robbins examines two of Freud's models of psychosis that are based on the assumption of a constitutional inability to develop a normal or neurotic mind. The theories of succeeding generations of analysts have for the most part reiterated the biases of Freud's two models, so that psychoanalysis considers the psychoses beyond its scope. In Part III Robbins proposes that the psychoses are the result of disturbances in the attachment-separation phase of development, leading to maladaptive persistence of a primordial form of mental activity related to Freud's primary process. Finally, in Part IV Robbins describes a psychoanalytic approach to treatment based on his model. The book is richly illustrated with material from Robbins' clinical practice.
Psychoanalysis Meets Psychosis has the potential to undo centuries of alienation between society and psychotic persons. The book offers an understanding of severe mental illness that will be novel and inspiring not only to psychoanalysts but to all mental health professionals.
You may also like