Psychoanalysis and Society's Neglect of the Sexual Abuse of Children, Youth and Adults: Re-addressing Freud's Original Theory of Sexual Abuse and Trauma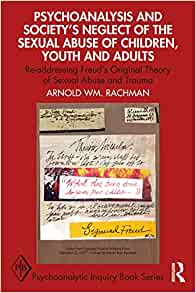 Book Details
Publisher : Routledge
Published : November 2021
Cover : Paperback
Pages : 352
Category :
Psychoanalysis
Category 2 :
Trauma and Violence
Catalogue No : 96028
ISBN 13 : 9780367278748
ISBN 10 : 036727874X
Also by Arnold W.M. Rachman
This book takes a comprehensive look at the understanding and treatment of child sexual abuse in psychoanalytic theory and practice, and in society as a whole.
This book will demonstrate how prophetic Ferenczi's ideas about sexual abuse and trauma were, and how relevant they are for contemporary psychoanalysis and society. Sexual abuse, its traumatic effect and the harm caused to children, youth, and adults will be described in the neglect of confronting sexual abuse by psychoanalysis and society. This neglect will be discussed in chapters about the abuse of children by religious leaders, students by teachers, youth in sports by coaches, and aspiring actors by authorities in the entertainment industry. It covers key topics such as why there has been silence about abuse in psychoanalysis, psychoanalytic theories and practices that can be counterproductive or even harmful, case studies of abuse in the wider community, and how psychoanalysis as a profession can do better in its understanding and treatment of child sexual abuse both in psychoanalytic treatment and in its interaction with other parts of society.
This book will appeal to all psychoanalysts and psychoanalytic psychotherapists, as well as scholars interested the history of psychoanalysis.
Reviews and Endorsements
"The publication of Arnold Rachman's Psychoanalysis and Society's Neglect of the Sexual Abuse of Children, Youth and Adults: Re-addressing Freud's Original Theory of Sexual Abuse and Trauma is a long over-due and necessary step toward correcting the record on psychoanalysis's neglect of childhood sexual trauma its sequelae and clinical treatment. Rachman identifies the taboo surrounding a discussion of Freud's analysis of his daughter Anna Freud. His focus on the inherent emotional seduction in that analysis as Freud satisfied his own narcissistic needs is, ground-breaking. He courageously draws our attention to topics psychoanalysis has turned away from calling out the field's "death by silence" attack on dissenters and the damage explicitly done to the reputation of Sandor Ferenczi. The latter confirmed the reality of sexual abuse among children after Freud had abandoned his original hypothesis. Rachman also brings to light the 1906 trial of Ernest Jones for the sexual abuse of children. Up till now, we knew Jones as a critic of Ferenczi, who joined Freud to discredit him. Dr. Rachman calls for an apology from the international psychoanalytic community for silencing Sandor Ferenczi's work for keeping his pioneering contributions to both theory and clinical method from the analytic community to the detriment of the general welfare of society. This is a landmark book." – Ann D'Ercole, PhD, ABPP, NYU Postdoctoral Program Psychotherapy, Psychoanalysis, Distinguished Visiting Faculty, William Alanson White Institute, author of the forthcoming title Clara Thompson: The Life and Work of an American Psychoanalyst.

"For over three decades Arnold Rachman has been an important figure in the revival of interest in Sandor Ferenczi and the Budapest School of Psychoanalysis. His research into Ferenczi's iconic case and treatment with Elizabeth Severn is an important milestone in this revival. A central theme of Arnold's work is to uncover and break a "Todschweigen", a conspiracy of silence, an effort intended to conceal and cover up. In his latest volume Psychoanalysis and Society's Neglect of the Sexual Abuse of Children, Youth and Adults: Re-addressing Freud's Original Theory of Sexual Abuse and Trauma he fearlessly and methodically makes the case for an apology owed to the Ferenczi community from the International Psychoanalytical Association. This book will be of interest to scholars of the history of psychoanalysis and contemporary directions that the field of psychoanalysis may take." – Fergal Brady is President of the Irish Psycho-Analytical Association, a psychoanalytic psychotherapist based in Dundalk, Ireland.
About the Author(s)
Arnold W.M. Rachman, PhD, FAGPA, is a trained individual and group psychoanalyst who is a clinician, traumatologist, and psychohistorian. He is the author of 125 scholarly articles, 13 books, and 250 professional presentations given in the United States, Europe, and South America. He is a member of the International Sándor Ferenczi Network Community, Honorary Member of the Sándor Ferenczi Society, Budapest, Hungary, and donor of the Elizabeth Severn Papers to the Library of Congress, Washington, DC, USA.
You may also like