Psychoanalysis and Male Homosexuality: Twentieth Anniversary Edition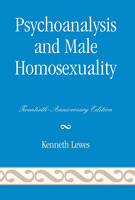 Book Details
Publisher : Jason Aronson
Published : 2009
Cover : Hardback
Pages : 334
Category :
Psychoanalysis
Catalogue No : 28619
ISBN 13 : 9780765706478
ISBN 10 : 0765706474
This landmark book is the first and only historical, cultural, and theoretical account of how male homosexuality has been viewed - and sometimes misconstrued - the psychoanalytic tradition, from Freud through the 1980s. In this groundbreaking survey, Kenneth Lewes shows how the original psychoanalytic ideals of understanding and compassion were betrayed by later psychoanalytic clinicians and theorists. Reconsidering Freud and his early followers in a new light, Lewes shows how they posited a model of psychological development that included homosexuality as one of its natural variants. But psychoanalysis, in its later attitudes toward homosexuality, soon changed from an open-minded and humane discipline into an insular and calcified orthodoxy. Exposing the basis of the acrimony and alienation that have characterized relationships between homosexuals and psychoanalysis, Psychoanalysis and Male Homosexuality is a sometimes shocking account of intolerance, hostility, and close mindedness. But it also carefully and fairly documents a parallel story of unexpected sensitivity as it explores the future possibilities—as well as the limits—of psychoanalysis as a humane science.
This twentieth anniversary edition includes a new introduction by the author, in which he reflects on the changes that have occurred in the past twenty years between the psychoanalytic establishment and people who are homosexual. It also includes two forewords by prominent analysts, Gilbert Cole and Donald Moss, who discuss the personal and historical importance of Lewes's work.
About the Author(s)
Kenneth Lewes is an independent scholar and clinician living in New York City. He has a Ph.D. in Renaissance English literature from Harvard and a Ph.D. in clinical psychology from the University of Michigan.
You may also like