Psychoanalysis and Holocaust Testimony: Unwanted Memories of Social Trauma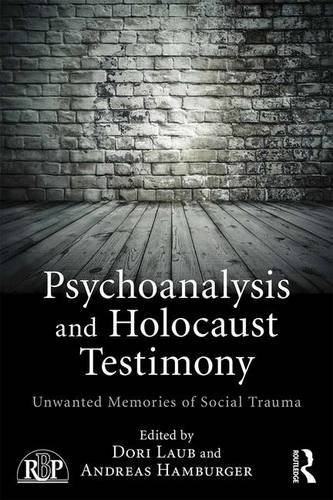 Book Details
Publisher : Routledge
Published : 2017
Cover : Paperback
Pages : 304
Category :
Psychoanalysis
Category 2 :
Trauma and Violence
Catalogue No : 40346
ISBN 13 : 9781138859210
ISBN 10 : 1138859214
Also by Andreas Hamburger
Psychoanalytic work with socially traumatised patients is an increasingly popular vocation, but remains extremely demanding and little covered in the literature. In Psychoanalysis and Holocaust Testimony, a range of contributors draw upon their own clinical work, and on research findings from work with seriously disturbed Holocaust survivors, to illuminate how best to conduct clinical work with such patients in order to maximise the chances of a positive outcome, and to reflect transferred trauma for the clinician.
Psychoanalysis and Holocaust Testimony closely examines the phenomenology of destruction inherent in the discourse of extreme traumatization, focusing on a particular case study: the recording of video testimonies from a group of extremely traumatized, chronically hospitalized Holocaust survivors in psychiatric institutions in Israel. This case study demonstrates how society reacts to unwanted memories, in media, history, and psychoanalysis - but it also shows how psychotherapists and researchers try to approach the buried memories of the survivors, through being receptive to shattered life narratives.
Questions of bearing witness, testimony, the role of denial, and the impact of traumatic narrative on society and subsequent generations are explored. A central thread of this book is the unconscious countertransference resistance to the trauma discourse, which manifests itself in arenas that are widely apart, such as genocide denial, the disappearance of the hospitalized Holocaust survivors and of their life stories, mishearing their testimonies and ultimately refusing them the diagnosis of traumatic psychosis.
Psychoanalysis and Holocaust Testimony provides an essential, multidisciplinary guide to working psychoanalytically with severely traumatised patients. It will appeal to psychoanalysts, psychoanalytic psychotherapists and trauma studies therapists.
About the Editor(s)
Andreas Hamburger is a Professor of Psychology at the International Psychoanalytic University, Berlin, and a psychoanalyst who writes on literature, film, and psychoanalysis, among other topics. He is a member of the Munich Work Group on Film and Psychoanalysis.
You may also like