Psychoanalysis and Art: Kleinian Perspectives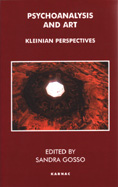 Also by Donald Meltzer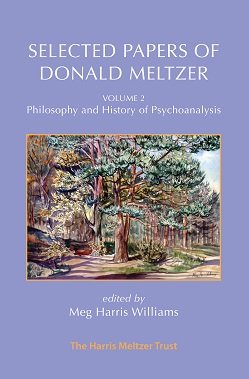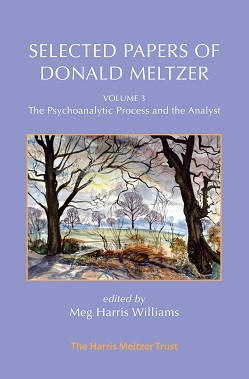 Our Customers Average Rating
Read all reviews (1)





This essential edition brings together a collection of classic papers from key figures in Kleinian and post-Kleinian thought that explore the relationship between psychoanalysis and art.
Sandra Gosso begins with a comprehensive and fascinating guide to the history of this relationship which began with Freud and was developed further by Melanie Klein at a time when most analysts were moving away from links with art. Melanie Klein's pivotal paper, "Infantile Anxiety Situations Reflected in a Work of Art and in the Creative Impulse", follows the Introduction. The other papers featured are mainly from British analysts who expanded on Melanie Klein's ideas, inspired by the influence of the creative Bloomsbury and Imago Groups. Members of the Imago Group, founded by Adrian Stokes, include Donald Meltzer, Wilfred Bion, Roger Money-Kyrle and Marion Milner; all of whom underwent analysis with Melanie Klein. Their interests range throughout the arts and this allows them to explore the relationship between art and psychoanalysis from varied and thought-provoking angles. The book also includes four chapters by Meg Harris Williams. The papers featured here investigate such core themes as the creative impulse, aesthetics, literature and symbol formation.
This definitive volume is essential reading for students and professionals in the fields of psychoanalysis, art and cultural studies.
About the Editor(s)
Sandra Gosso is a researcher in dynamic psychology at the University of Pisa, Italy where she also teaches Psychology of Art in the Cinema, Music and Theatre course (CMT). She has contributed to various books in the field of psychoanalysis and she is the author of Paesaggi delle mente: una psicoanalisi per l'estetica (Franco Angeli, Milan 1997).
Donald Meltzer (1923-2004) is widely known as a psychoanalyst and teacher throughout Europe and South America. He is the author of many works on psychoanalytic theory and practice, including The Psychoanalytical Process, Sexual States of Mind, Explorations in Autism, The Kleinian Development, Dream Life, Studies in Extended Metapsychology, and The Claustrum, all published by the Harris Meltzer Trust.
Customer Reviews
Our customers have given this title an average rating of 4 out of 5 from 1 review(s), add your own review for this title.
Lilian on 23/06/2012 22:03:12





(4 out of 5)
I just hope the author keeps writing more!
You may also like