Psychiatric Rehabilitation: A Psychoanalytic Approach to Recovery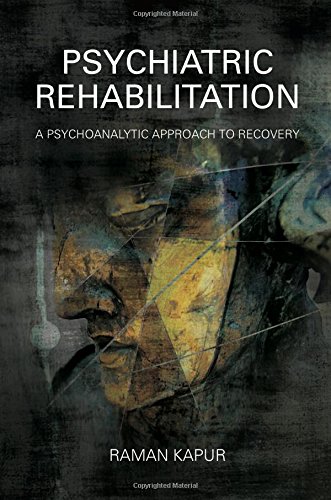 Book Details
Publisher : Routledge
Published : December 2015
Cover : Paperback
Pages : 216
Category :
Psychoanalysis
Category 2 :
Clinical Psychology
Catalogue No : 35471
ISBN 13 : 9781782201564
ISBN 10 : 1782201564
Also by Raman Kapur
Recovering from severe mental illness is one of the most terrifying human experiences in health care. Often conventional rehabilitation approaches focus on helping the patient with his or her symptoms and maximising the external world through supportive interventions. However, often little attention is paid to the internal world of the patient. This subjective experience of recovery is the focus of this book. It describes a particular psychoanalytic model that best captures this distressful state of mind and suggests particular processes that have to be put in place to ensure the patient gets the best opportunity to have his or her fears and hopes addressed.
The book also addresses "real world" issues such as management, leadership and training, as well as highlighting key research findings from relevant studies. Outcome measures are suggested that could be adopted to measure the benefits of this particular approach. The chapters give many clinical, organisational and research descriptions from the real world of psychiatry and social care.
Reviews and Endorsements
'Raman Kapur achieves a great deal in this fascinating book. Drawing from his experiences as a clinical psychologist and manager of a mental health agency he provides valuable insights into the application of Kleinian and post-Kleinian ideas to the delivery of services to adults with a variety of mental health problems. In the course of this narrative, Dr Kapur traverses a range of contexts, thoughtfully illustrated by his own practice examples with individuals, groups and communities. The result is a book that offers a breadth of understanding about the role of the therapist, and manager, in mental health organisations. It will therefore be of great interest to therapists and professionals who seek to question conventional approaches to practice in mental health services.'
- Professor Jim Campbell, Chair of Social Work, University College Dublin

'In this compelling, clear and honest account we encounter a master clinician's "IQ" (Introspection Quotient, as he terms it) as he reflects on the dynamics of caring for people with severe mental illness. Based on deep experience, combined with a sensitive application of Kleinian concepts – splitting, envy, destructive narcissism – Kapur brings his non-authoritarian authority to real-life difficulties encountered in hospitals, clinics and the community, showing how hope can be maintained, without succumbing to hatred, evasion, or denial. This truly vital and original contribution is essential reading for all who work in mental health – not excluding those responsible for its management.'
- Professor Jeremy Holmes, MD, FRCPsych, University of Exeter, UK

'This is an original, creative, comprehensive, and research-based approach to treatment and care for the increasing number of patients with severe and chronic mental disorders who are living in residential programs or at home. The proof is in the pudding: Dr Kapur's Threshold program has succeeded for twenty-five years in providing optimal care to individuals and their families who have often foundered in other mental health systems. The author draws from his rich experience to provide detailed descriptions, with case examples, of individual, group, institutional, training, and consultations aspects of care
that is rooted in a psychoanalytic model emphasizing the listening process, unconscious dynamics, and respect for patients' autonomy.'
- Victor L. Schermer, MA, psychologist and Life Fellow of the American Group Psychotherapy Association
About the Author(s)
Raman Kapur, MBE, is a Consultant Clinical Psychologist specialising in psychotherapy, and is also the Chief Executive Officer of the mental health charity Threshold, based in Belfast, Northern Ireland. He is an Associate Fellow of the British Psychological Society and also holds an Honorary Senior Lectureship with the School of Psychology, the Queens University of Belfast, where he was formerly course Director of the MSc in psychoanalytic psychotherapy. In 2012 he was awarded an MBE by the Queen for his work in providing services to people with mental illness in Northern Ireland.
You may also like