Projection, Identification, Projective Identification

Book Details
Publisher : Routledge
Published : 1988
Cover : Paperback
Pages : 232
Category :
Psychoanalysis
Catalogue No : 2664
ISBN 13 : 9780946439409
ISBN 10 : 0946439400
Also by Joseph Sandler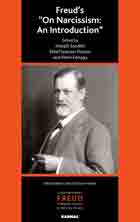 A collection of papers focussing on all aspects of projection and identification. Contributors include: Otto Kernberg, Betty Joseph, W.W.Meissner, and Rafael Moses.
Reviews and Endorsements
'Addressing the problems and perplexities of projective identification, Sandler meticulously examines the interrelated issues of theory and therapy. He achieves a very illuminating, in depth exploration and exposition of an important and controversial analytic concept.'
- Harold P. Blum, M.D.

'This superb book focuses on some of the core conceptual problems of psychoanalysis today. As we are increasingly interested in object relations theory and the treatment of the more severe character disorders it has become urgent to improve our understanding of projective identification and its companion concepts of projection and identification. This timely volume fills that need.
'The book is the product of a symposium in which a group of eminent analysts gave unusually lucid and scholarly papers, each followed by an illuminating and enriching discussion. Dr. Sandler, in his introductory paper and in his organizing role, masterfully centers the issues and even manages to introduce humour. No simple answers are given, but through careful scholarship and clinical illustration the problems are clarified and the reader may reach his own conclusions. Every analyst interested in the newer and clinical propositions of our analytic discourse will benefit from study of this work.'
- Arnold M. Cooper, M.D.

'Sandler and his collaborators are to be congratulated for having produced a comprehensive, authorities, and scholarly overview of the complex and controversial realm encompassed within the rubrics of "Projection, Identification, Projective Identification". The range of viewpoint is expectedly wide, but always informative. The concept of projective identification has been extracted from its specifically Kleinian origin and linkage and explored for its relevance within various major psychoanalytic theoretical frameworks. And a special achievement: the whole volume is at all times lucid and interesting.'
- Robert S. Wallerstein, M.D.
About the Editor(s)
Joseph Sandler qualified as a psychoanalyst in the British Psychoanalytical Society. He was the Freud Memorial Professor of Psychoanalysis in the University of London and Director of the Psychoanalysis Unit at University College London, and in private practice in London. He was formerly the first Sigmund Freud Professor of Psychoanalysis at the Hebrew University of Jerusalem, Editor of the International Journal of Psychoanalysis and the International Review of Psychoanalysis, and was President of the International Psychoanalytical Association.
You may also like