Presence of Mind in Neurophysiological Processes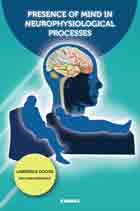 Book Details
Publisher : Routledge
Published : May 2013
Cover : Paperback
Pages : 160
Category :
Neuroscience
Category 2 :
Psychoanalysis
Catalogue No : 29077
ISBN 13 : 9781855758858
ISBN 10 : 1855758857
Also by Lawrence Goldie
Also by Jane Desmarais
This book is a study of the simultaneous physiological recordings and psychoanalytic observations when emotional/psychological responses to external stimuli occur pari passu with observed physiological changes. It is the culmination of the author's psychiatric and psychoanalytic work with patients over fifty years, and is based on the simple premise that physiological measurements cannot describe the mind and the mind cannot describe physiological processes. In order for us to have a significant knowledge of the object the author argues that we need both, and that medical specialists and health professionals (doctors, nurses, psychoanalysts, psychotherapists, psychiatrists, etc.) need to be trained to adopt a Complementary approach to patients. The complex relationship between mind and body offers vital clues to the individual's condition, and only by considering patients both physically and mentally can doctors and psychoanalysts make precise and competent judgements.
About the Author(s)
Lawrence Goldie was a consultant psychiatrist and psychoanalytic psychotherapist who worked in the National Health Service at three postgraduate Institutes of London University. His psychiatric training was at the Institute of Psychiatry at the Maudsley Hospital, where he conducted neuro-physiological research in the department of Sir Denis Hill. This ground-breaking research combined physiological observation with psychoanalytic interviews with patients with Petit Mal. He published widely from his research on a variety of topics which principally concerned the relationship of mental events to psycho-sociological phenomena, including hypnosis and trauma, epilepsy, sleep patterns in infants, and intra-cranial bruits. Goldie's research on attention and inattention in neuro-physiology was the subject of a leading article in Nature. His Psychotherapy and the Treatment of Cancer Patients: Bearing Cancer in Mind was published in 2005.
More titles by Lawrence Goldie
Jane Desmarais is Deputy Head of English in the Department of English & Comparative Literature at Goldsmiths, University of London. She is co-author with Lawrence Goldie of Psychotherapy and the Treatment of Cancer Patients: Bearing Cancer in Mind (Routledge, 2005), and author and editor of a number of books, essays and articles on psychoanalysis, literature and visual arts. She is co-editor of two volumes on eating disorders in children and adolescents, and has written on anorexia and passive resistance in Hermann Melville's 1853 tale, Bartleby. She is currently working on a series of projects about Decadence, including a book on skin based on the work of Didier Anzieu's Le Moi-Peau.
You may also like