Practical Neuropsychological Rehabilitation in Acquired Brain Injury: A Guide for Working Clinicians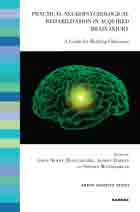 Book Details
Publisher : Routledge
Published : February 2013
Cover : Paperback
Pages : 428
Category :
Neuroscience
Category 2 :
Trauma and Violence
Catalogue No : 30519
ISBN 13 : 9781855757226
ISBN 10 : 1855757222
Also by Rudi Coetzer
The book aims to acknowledge the complexity of working with clients who have an acquired brain injury but also seeks to give the interested reader practical and useable guides to develop their practice. Throughout the text, case studies and practical suggestions are forwarded to facilitate do-able practice. It is hoped that the book will become a gold standard in this particular area and is aimed at a range of professionals in training (for those responsible providing training in psychopathology, neuropsychology and psychotherapy), and those who have an interest in working with the issues commonly seen post acute brain injury rehabilitation settings.
Reviews and Endorsements
'Practical Neuropsychological Rehabilitation in Acquired Brain Injury sets out to "provide a realistic, straightforward and useable guide for ordinary clinicians". It succeeds. The mark of a good book is one that you know you will come back to time and time again, and this is just such a book. It avoids the trap of trying to be a "how-to-do-it" book, but is nevertheless full of sensible practical advice on how to address the many and varied consequences of brain injury. There are nuggets of clinical wisdom throughout that will reassure clinicians new to neuropsychological rehabilitation, as well as those longer in the tooth, that it is possible to make a difference with people facing the challenges of adjusting to the consequences of brain injury. The book is also realistic, recognising, discussing and offering advice on the challenges of assessment, formulation and intervention with people who often live in complex, difficult social circumstances. It is a very personal book - one gets a clear sense of the clinician writing each chapter, the services they work in and the people presented in the case examples that are used throughout. This is perhaps best reflected in the illustration of several different approaches to formulating the same case, including CBT, neuropsychoanalytic, narrative, systemic, and cognitive analytic therapy approaches. The range of topics covered in the book is wide, but again reflecting everyday life for people with brain injury and the clinicians working with them – relationships, parenting, driving, capacity to make decisions, using new technologies in creative interventions, service models, managing services and how to keep up with Continuing Professional Development being just a few. These are the things that people in neuropsychological rehabilitation need to know, but are often not covered in other books. This book does what it says on the tin!'
- Jonathan Evans, Professor of Applied Neuropsychology, University of Glasgow

'Neurorehabilitation services in the UK have undergone major developments in scope and diversity in the last two decades. Improved recognition of the needs of those who have suffered brain injury, together with better understanding of its effects and a broadening of the range of treatment methods and perspectives, mean that neurorehabilitation is no longer just the preserve of a few specialised units but is available throughout the UK. The need for services continues to far outstrip available resources, but at least there is now some reason to expect or demand local brain injury services.

This book provides a much-needed perspective on the practicalities of working with people who have suffered brain injury, and with their families. The diversity of treatment methods now available is well illustrated by the chapter on therapy and engagement, illustrating the use of different therapeutic approaches to the same case. The chapter on neuropsychological assessment deals with the context, ethics and impact on relationships of testing, as well as practical aspects of psychometric and observational assessment – a welcome addition. The breadth of the book can be gauged by the inclusion of chapters on driving, vocational rehabilitation, and the use of emails and texts in psychological therapy after brain injury. The vital issue of relationships after brain injury is a theme throughout the book, which also includes chapters on practical ways of working with relationships and parenting. Relationships between brain injury team members and the practical aspects of setting up a brain injury team are also (unusually) given explicit consideration.

The authors and context of this book are UK-based, but the ideas and approaches in it will travel widely. The editors have done an excellent job in fulfilling their intention of providing a vibrant and practical guide to those working with Acquired Brain Injury, be they beginners or veterans like this reviewer.'
- Dr Richard Warburg, Consultant Clinical Neuropsychologist

'An excellent book written by practitioners for practitioners, blending theoretical insight, clinical experience and pragmatism. Gavin Newby and colleagues have produced a working manual for neuropsychologists in rehabilitation that deserves to be widely read throughout the profession.'
- Dr Andrew Worthington, Director/Consultant in Neuropsychology and Rehabilitation, Headwise, Birmingham
About the Editor(s)
Dr Gavin Newby has twenty years' experience as a clinical neuropsychologist in the UK of working with people who have an acquired brain injury (ABI) and their families. He is currently the Consultant Clinical Neuropsychologist with the Cheshire & Wirral ABI Service and provides community-based individual and family interventions across the county. He has published a number of articles on website design, mental capacity assessments, using emails in psychotherapy, parenting after ABI, risk management, and return to driving.
Dr Rudi Coetzer is with the North Wales Brain Injury Service, Betsi Cadwaladr University Health Board NHS Wales, where he works full-time as a consultant neuropsychologist. He is an honorary senior lecturer in the School of Psychology, Bangor University.
Dr Audrey Daisley is a consultant clinical neuropsychologist at the Oxford Centre for Enablement (an NHS post-acute brain injury rehabilitation service) which is part of Oxford University Hospitals NHS Trust. She is the lead clinical psychologist for the unit's family support service and is committed to supporting and improving outcomes for those affected by brain injury and their families. Dr Daisley has a particular interest in the issues facing children who have a relative with brain injury and in 1995 established the first NHS service to specifically support child relatives. As well as working clinically, Dr Daisley is actively involved in family focused research and regularly teaches and supervises a wide range of rehabilitation professionals in family related issues. She is a member of the British Psychological Society and a full practitioner member of its Division of Neuropsychology. She is also a chartered clinical psychologist and a member of the UK Health Professions Council.
Dr Stephen Weatherhead is a clinical psychologist specialising in brain injury. He co-founded Neuro Family Matters (www.neurofamilymatters.co.uk) in 2010 in order to proved flexible, individualised psychological support to individuals and families. He specialises in The Mental Capacity Act, with a particular emphasis on assessment, multi-agency working, and systemic perspectives. He is a clinical tutor and lecturer in health research with the Lancaster University Doctorate in Clinical Psychology.
You may also like