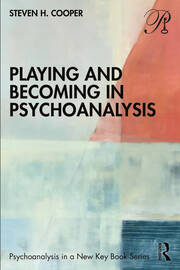 Book Details
Publisher : Routledge
Published : August 2022
Cover : Paperback
Pages : 180
Category :
Psychoanalysis
Catalogue No : 96649
ISBN 13 : 9781032207551
ISBN 10 : 9781032207
Also by Steven H. Cooper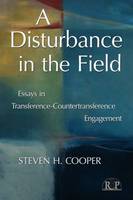 Building on Winnicott's theory of play, this book defines the concept of play from the perspective of clinical practice, elaborating on its application to clinical problems.
Although Winnicott's theory of play constitutes a radical understanding of the intersubjectivity of therapy, Cooper contends, there remains a need to explore the significance of play to the enactment of transference-countertransference. Among several ideas, this book considers how to help patients as they navigate debilitating internal object relations, supporting them to engage with "bad objects" in alternatively playful ways. In addition, throughout the book, Cooper develops an ethic of play that can support the analyst to find "ventilated spaces" of their own, whereby they can reflect on transference-countertransference. Rather than being hindered by the limits of the therapeutic setting, this book explores how possibilities for play can develop out of these very constraints, ultimately providing a fulsome exploration of the concept without eviscerating its magic.
With a broad theoretical base, and a wide definition of play, this book will appeal to psychoanalysts and psychoanalytic psychotherapists wanting to understand how play functions within and can transform their clinical practice.
Reviews and Endorsements
'For Steven Cooper play is played in the rippling there and then of illusory experiencing. It is not an idle business. It is the pursuit of paradoxical transitions, places where patients can be met, moving with them between fantasy and reality, pain and loss, memory and the longing for a psychic future. Cooper has a gift for meeting patients and readers as he renders clinical psychoanalysis as familiar and genuine while not robbing it of its essential paradox, and enlivening aggression. He brings this vitalizing tension to life as he reworks theoretical lynchpins, such as interpretation, responsiveness, mourning, being, love, and potential. The exercise of play, the movement, the leap, even the faltering (maybe, most so) are a thing to behold in Cooper's hands and words. He has given us not only a treatise on play, but also a course in ethics. This is a cornerstone book to be read and reread.' - Ken Corbett, New York University Postdoctoral Program in Psychoanalysis and Psychotherapy; author of Boyhoods: Rethinking Masculinities and A Murder Over A Girl: Justice, Gender, Junior High

'In his new book, Steven Cooper explores playing as a process out of which the patient's experience of being and becoming is born. He develops a theory of play in which he manages to maintain the mystery and magic of play as well as the ambiguity of inside and outside that are inherent to it. He explores the interdependence of mourning and playing, as well as questions regarding the ethic of playing. The clinical examples in this book are at times engrossing, puzzling, humorous and paradoxical, as they must be in Cooper's effort to describe the role of playing in the analytic process. Reading this book is an experience that should not be missed.' - Thomas H. Ogden, author of Coming to Life in the Consulting Room: Toward a New Analytic Sensibility and Reclaiming Unlived Life

'This book opens horizons. It explores the role of play in psychoanalysis in new and surprising ways. The importance of play in mourning, in working through depression, in dealing with bad internal objects—these are examples of what Steven Cooper calls "playing in the darkness". He stresses that these aspects of play depend on its fundamentally ethical quality: another theme that is original to this book. This leads to a subtle analysis of the nature and function of the analytic setting. Freud and Klein exemplify its use to increase patients' knowledge of themselves, while Bion, Ogden and, above all, Winnicott are more concerned to help patients find a different way of being. Cooper's enlivening comparison of these two approaches is both rigorous and free-wheeling. Like the whole book, it calls on the reader to work at it and play with it at the same time.' - Michael Parsons, British Psychoanalytical Society and French Psychoanalytic Association.
About the Author(s)
Steven H. Cooper, Ph.D., is a Training and Supervising Analyst at the Boston Psychoanalytic Society and Institute, and faculty and Supervising Analyst at the Massachusetts Institute for Psychoanalysis. Joint editor-in-chief of Psychoanalytic Dialogues, he is the author of Objects of Hope: Exploring Possibility and Limit in Psychoanalysis.
You may also like