Pioneers of Child Psychoanalysis: Influential Theories and Practices in Healthy Child Development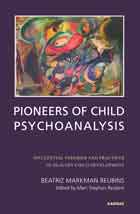 In Pioneers of Child Psychoanalysis Beatriz Markman Reubins presents the lives and theories of the early innovators of psychoanalytic theory as it is applied to child development - Sigmund Freud, Anna Freud, Melanie Klein, D.W. Winnicott, Margaret Mahler and John Bowlby. The creative thinking Markman Reubins shows lies in her unique weaving of personal history and theoretical application. This insightful elaboration of the thoughts of influential thinkers flows seamlessly from the early twentieth century to the present time.
The author's unique approach of preceding theory with the personal history of the analytic thinkers amplifies and gives texture to the unfolding of their understanding of psychological development and its analytic implications for child development. She describes difficult concepts with a balanced and thoughtful approach, which sheds light and understanding for both the student and experienced clinician.
By comparing and contrasting these theoretical approaches the author suggests their interrelationships and how, rather than opposing each other, they augment one another and help the reader to understand the broad depth of analytic insight which flowed from the enormous creativity of the analysts from the twentieth century. While this is a "must read" for students of child psychoanalysis, it is also enormously beneficial for parents who want to understand the fundamentals of best parenting practices.
Reviews and Endorsements
'This is a much-needed book. Based on her forty-six years of experience as a psychoanalyst working with children and adults, as well as teaching psychiatric residents, Dr Beatriz Markman Reubins sets out to clarify and compare the basic findings and conflicting theories of the pioneers of child psychoanalysis. She shrewdly presents the main tenets of each of the main pioneers, together with brief biographical sketches, so that the reader can compare the various theories and methodologies. While Dr Markman Reubins has her own conclusions, she presents the material in a concise manner so that the reader – be he or she a member of the lay public interested in analytic thinking, a parent contemplating treatment for a child with problems, or someone beginning training in the treatment of children – may evaluate each theory and assess the different approaches and come to his or her own conclusions.'
— Eugene Halpert, MD, Training and Supervising Analyst at the Institute for Psychoanalytic Education, affiliated with the NYU School of Medicine

'This is a thoughtfully composed book for those interested in the complexities and beauty of psychological theory that has shaped the practice of modern mental health care. The scope of this book is not only limited to psychological theory, but also explores the personal history of the theorists, as well as the historical context in which the theory was conceived. This book can offer great insight to students of psychiatry and psychology as well as non-professionals, including parents who have an interest in understanding psychological theory, which is so vital to the development of the child.'
— John Christman, MD, psychiatrist, Long Island Jewish Medical Center, New York

'In Pioneers of Child Psychoanalysis, Dr Markman Reubins has summarised the essential concepts from many great thinkers. Using simple language, she condenses very complicated ideas, displaying an impressive knowledge and familiarity with the different concepts and theories and how they are interrelated. The organisation of the material is systematic, logical, and helpful. What makes the book truly special is Dr Markman Reubins' passion and excitement for the subject. I would recommend this work to anyone who is interested in learning about the psychological processes of early life, which shape who we are as adults. In addition to understanding our patients, the book gives us greater awareness of ourselves and of how to raise healthier children.'
— Daniel Cohen, MD, Department of Psychiatry, Saint Luke's Roosevelt Hospital, New York
About the Author(s)
Beatriz Markman Reubins, MD, received her medical degree from Buenos Aires Medical School of the University of Buenos Aires, and is a licensed clinical psychologist. She trained in adult, child and adolescent psychiatry at North Shore University Hospital on Long Island, New York, and is a member of the Argentina Psychoanalytic Association, the International Psychoanalytic Society, and past President of the Long Island Psychoanalytic Society in New York. She was Assistant Professor in Psychopathology at the University of Buenos Aires, and is currently an Associate Attending at Long Island Jewish Hospital (North Shore University Hospital) where she teaches psychoanalysis and supervises psychiatric residents at the Zucker-Hillside Hospital. Dr Markman Reubins is also a member of the China American Psychoanalytic Alliance (CAPA), and a supervising psychotherapist in China.
You may also like