Perversion: A Lacanian Psychoanalytic Approach to the Subject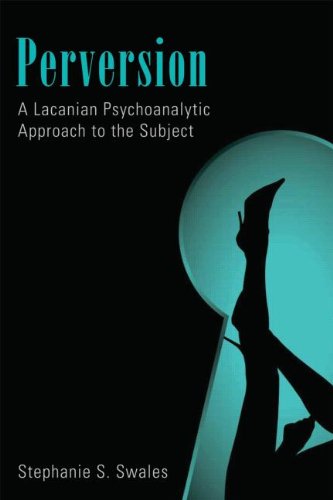 Book Details
Publisher : Routledge
Published : January 2012
Cover : Paperback
Pages : 280
Category :
Lacanian Psychoanalysis
Catalogue No : 33393
ISBN 13 : 9780415501293
ISBN 10 : 0415501296
Lacan's psychoanalytic take on what makes a pervert perverse is not the fact of habitually engaging in specific abnormal or transgressive sexual acts, but of occupying a particular structural position in relation to the Other. Perversion is one of Lacan's three main ontological diagnostic structures, structures that indicate fundamentally different ways of solving the problems of alienation, separation from the primary caregiver, and castration, or having limits set by the law on one's jouissance. The perverse subject has undergone alienation but disavowed castration, suffering from excessive jouissance and a core belief that the law and social norms are fraudulent at worst and weak at best.
In Perversion, Stephanie Swales provides a close reading (a qualitative hermeneutic reading) of what Lacan said about perversion and its substructures (i.e., fetishism, voyeurism, exhibitionism, sadism, and masochism). Lacanian theory is carefully explained in accessible language, and perversion is elucidated in terms of its etiology, characteristics, symptoms, and fundamental fantasy. Referring to sex offenders as a sample, she offers clinicians a guide to making differential diagnoses between psychotic, neurotic, and perverse patients, and provides a treatment model for working with perversion versus neurosis. Two detailed qualitative clinical case studies are presented - one of a neurotic sex offender and the other of a perverse sex offender - highlighting crucial differences in the transference relation and subsequent treatment recommendations for both forensic and private practice contexts.
Perversion offers a fresh psychoanalytic approach to the subject and will be of great interest to scholars and clinicians in the fields of psychoanalysis, psychology, forensic science, cultural studies, and philosophy.
Reviews and Endorsements
Contents
Introduction. Theoretical and Case Study Contributions. Button Ties of Lacanian Theory: The Paternal Metaphor, Subjectivity, and the Remainder. The Etiology of Perversion. Perverse Relation to the Other: Fundamental Fantasy, Language, and the Drives. The Perverse Act and Substructures of Perversion. Analysis of a Case of (Perverse) Exhibitionism. Analysis of a Case of Obsessive Neurosis and Pedophilic Sexual Interest. Treatment Recommendations for Clinical Work with Neurotic and Perverse Patients.

'This is the most in-depth, clinically astute, and illuminating exploration of perversion that I know of! Swales convincingly guides us through the maze of sadism, masochism, voyeurism, exhibitionism, and fetishism, illustrating her discussions throughout with eye-opening case material. A must-read book for all clinicians wishing to work with patients many shy away from owing to myriad transferential difficulties and misconceptions.'
- Bruce Fink, Ph.D., Professor of Psychology, Duquesne University

'Whereas "perversion' has been replaced with the allegedly less pejorative term "paraphilia" in the psychiatric textbooks, most psychoanalysts continue to employ the term, and much in the same way as their fellow clinicians, notably as a synonym for transgressive and eccentric sexual behaviors. In this illuminating book, Stephanie Swales demonstrates how Lacan's conception of perversion opens up an entirely new perspective, which does not focus on particular, non-normative sexualities, but starts from the identification of a certain relationship between the subject and the symbolic structures of language and the law. The startling consequence of Swales' Lacanian approach, in which detailed textual analysis is balanced against the richness of clinical experience, is that perverts may not exist where they were always held to be, and may also linger where they were never held to operate. If you thought you knew what "perversion" meant, this book will make you think again; if you thought you were a pervert, or you thought you knew how to make other people admit it, this book will challenge everything you thought.'
- Professor Dany Nobus, Pro-Vice-Chancellor for Strategy and Development, Brunel University, London

About the Author(s)
Stephanie S. Swales received her Ph.D. in Clinical Psychology from Duquesne University. Working from a Lacanian orientation, she maintains a private practice conducting work both in person and by phone.
You may also like