Parenting Across Cultures from Childhood to Adolescence: Development in Nine Countries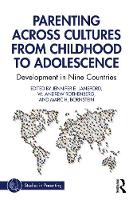 Book Details
Publisher : Routledge
Published : February 2021
Cover : Paperback
Pages : 272
Category :
Child and Adolescent Studies
Catalogue No : 95518
ISBN 13 : 9780367462321
ISBN 10 : 9780367462
Also by Marc H. Bornstein
This vital volume advances understanding of how parenting from childhood to adolescence changes or remains the same in a variety of sociodemographic, psychological, and cultural contexts, providing a truly global understanding of parenting across cultures.
Through the Parenting Across Cultures project, the editors unveil findings from this hugely important comparative longitudinal study of parents and children in China, Colombia, Italy, Jordan, Kenya, the Philippines, Sweden, Thailand, and the United States. The volume offers insight into trajectories of parenting, exploring parents' warmth, control, rules setting, and knowledge of children's activities and whereabouts. Each chapter is authored by a contributor native to the country examined, guaranteeing an authentic emic perspective, and together the chapters provide a broader sample that is more generalizable to a wider range of the world's population than is typical in most parenting research.
Parenting Across Cultures From Childhood to Adolescence is essential reading for researchers and students of parenting, psychology, human development, family studies, sociology, and cultural anthropology, as well as professionals working with families.
About the Editor(s)
Jennifer E. Lansford is a research professor at the Sanford School of Public Policy and Faculty Fellow of the Center for Child and Family Policy at Duke University, USA. Lansford leads an international study of parenting and child development in nine countries, currently in its twelfth annual year of data collection and the basis of this volume.
W. Andrew Rothenberg is a research scientist at the Center for Child and Family Policy at Duke University and a postdoctoral associate at the University of Miami Miller School of Medicine's Mailman Center for Child Development, USA. He is the author or co-author of over 30 peer-reviewed journal articles and chapters.
Marc H. Bornstein holds positions at the Eunice Kennedy Shriver National Institute of Child Health and Human Development, the Institute for Fiscal Studies, and UNICEF. He is President Emeritus of the Society for Research in Child Development, Editor Emeritus of Child Development, and founding Editor of Parenting: Science and Practice. Bornstein has written and edited several books, including the five-volume Handbook of Parenting.
You may also like