Parenthood and Immigration in Psychoanalysis: Shaping the Therapeutic Setting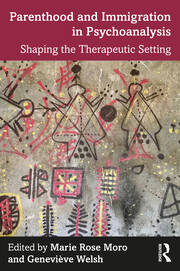 This book presents a comprehensive overview of psychoanalytic work with immigrant mothers, fathers, and their children, combining clinical examples and contemporary research to explore ways in which psychoanalysts can work and shape appropriate therapeutic settings.
Written by an international range of contributors, from Europe, the US, and the Middle East, the chapters examine how psychoanalysts, especially when they too are immigrants, can best support those in a transcultural situation against the backdrop of increasing migration from conflict, persecution, war, or poverty. They share a clinical and societal commitment. While showing how the existing literature on immigration focuses rightly on traumatic elements, the chapters in this text also demonstrate how creativity must be considered while shaping a psychoanalytic perspective. The text brings together case material and research to illuminate how the therapeutic and theoretical processes of psychoanalysis, at times combining anthropology and sociology, can lead to the construction of new therapeutic settings mostly for non-Western families in contexts of higher psychopathological risks: neo-natal period, international adoption, and social isolation.
Written in a practical, accessible style, Parenthood and Immigration in Psychoanalysis is essential reading for practicing psychoanalysts, paediatricians, psychotherapists, and counsellors, as well as researchers and clinicians in a range of fields, including perinatal, sociology, cultural studies, and social work.
About the Editor(s)
Marie Rose Moro, MD, PhD, is a professor at Paris University, France. She is a child/adolescent psychiatrist and psychoanalyst (Paris Psychoanalytic Society SPP), researcher, and writer. She is a specialist in transcultural psychiatry and is the founder of the transcultural journal, L'autre and an international transcultural association (AIEP).
Geneviève Welsh, MD, is a psychiatrist, psychoanalyst (Paris Psychoanalytic Society SPP) and a group analyst. She has created a consultation and group therapy settings for immigrants (ASM13, France) and works in private practice.
You may also like