Palatine: The Four Emperors Series: Book I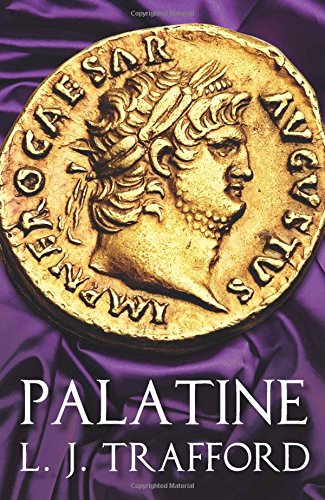 Book Details
Publisher : Karnac Books
Published : June 2015
Cover : Paperback
Pages : 428
Category :
Fiction
Catalogue No : 36826
ISBN 13 : 9781782202646
ISBN 10 : 1782202641
Paperback
£9.99
Usually despatched within 4-5 working days
Free delivery worldwide
This title has been delisted and is no longer available to purchase
Our Customers Average Rating
Read all reviews (1)





Debauchery. Depravity. Decadence.
Just everyday life at the imperial palace.
Whilst Emperor Nero plays with his new water organ and a cross-dressing eunuch, his wily secretary Epaphroditus manages affairs of state. But dissent and rebellion are growing across the empire, and Nero is soon to discover playtime is over.
Praetorian prefect Nymphidius Sabinus, disgusted by the moral degeneracy, secretly plots the overthrow of Nero's court. Motivated by the traditional Roman values of valour and nobility, yet blinded by his own righteousness, Sabinus is ignorant of what he has unleashed – The Year of the Four Emperors.
Palatine is the first in an enthralling four-book series about the tumultuous 'Year of the Four Emperors' which will appeal to fans of Lindsey Davis and George R. R. Martin.
About the Author(s)
L. J. Trafford worked as a tour guide, after gaining a BA Hons in ancient history. This experience was a perfect introduction to writing, involving as it did the need for entertainment and a hefty amount of invention (it's how she got tips!). She now works in London doing something whizzy with databases.
Customer Reviews
Our customers have given this title an average rating of 5 out of 5 from 1 review(s), add your own review for this title.
David Baird on 08/07/2015 14:48:07





(5 out of 5)
I'm a big fan of historical fiction so when I was offered a review copy of this book I was very excited to say the least.

This book focuses on Emperor Nero and his eventual death after the Praetorian prefect Nymphidius Sabinus decides he's had enough of his behaviour and gets the Praetorian Guard to desert him and back Galba as Emperor.

The author decided to write this book from a number of different perspectives which made it a very interesting read. I think that's probably the thing I liked the most about the book.. the characters and the sheer number of them. Best of all, the story didn't feel rushed/forced and flowed nicely from one person to another. I thought each character was handled well and was given depth as the story went on even though it was subtle.. when you finish the book and look back you can see the time that has been put into each of their stories.

Ok.. so you want me to tell you some things I didn't like.. Well - there's nothing really! For me this was a well-planned/written book that hooked me in. The way the author managed to fit so many little stories into the main story was brilliant! I particularly enjoyed any conversation involving Philo. His life is so wonderfully complicated. Not to spoil anything I won't say much but he was by far my favourite person in the book. I've been left wanting more.

The good news is there are 3 more books planned and I'm looking forward to Galba arriving on the scene. With my limited knowledge of the man I expect the second book will be as good as the first if not better!

I can't really comment on historical accuracy as I'm no expert but everything seems to fit with me so I hope anyone who enjoys historical fiction will give this book a read. I wasn't disappointed and I believe you won't be either.

You may also like