Overcoming Borderline Personality Disorder: A Family Guide for Healing and Change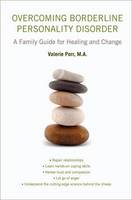 BPD is a potentially devastating mental disorder characterized by unstable moods, negative self-image, and dangerous impulsivity. Many people with BPD excel in academics and careers while revealing erratic, self-destructive, and sometimes violent behavior only to those with whom they are intimate. Others have trouble simply holding down a job or staying in school. It is believed that suicide claims about one in ten people with BPD. Overcoming Borderline Personality Disorder: A Family Guide for Healing and Change is a compassionate, informative, and reassuring guide to understanding this profoundly unsettling - and widely misunderstood - mental illness, believed to affect 2-3% of the general population.
Overcoming Borderline Personality Disorder offers families and loved ones supportive guidance that both validates the difficulties they face and shows how they can be overcome. Rather than viewing people with BPD as manipulative opponents in a bitter struggle, or pitying them as emotional invalids, this book argues that BPD is in fact a true neurobiological disorder. It clearly explains what BPD is, which therapies have proven most effective, and how to overcome the stigma associated with the disorder. The book teaches concerned family members effective coping behaviors and interpersonal skills, such as new ways of talking about emotions, building awareness of nonverbal communication, and validating difficult experiences. These skills are derived from Dialectical Behavior Therapy and Mentalization Therapy, two evidence-based treatments that have proven highly successful in reducing family conflict and aggressive incidents in the home, while increasing hope and trust. Providing accessible explanations of cutting-edge neurobiological research, Overcoming Borderline Personality Disorder takes a fundamentally different approach to the disorder: an empowering and hopeful guide to increasing understanding of the BPD experience - and to making use of that understanding in day-to-day interactions.
You may also like