Out of This World: Suicide Examined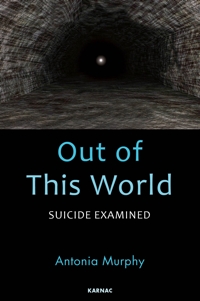 Book Details
Publisher : Routledge
Published : February 2017
Cover : Paperback
Pages : 156
Category :
Individual Psychotherapy
Category 2 :
Counselling
Catalogue No : 38989
ISBN 13 : 9781782204879
ISBN 10 : 1782204873
Also by Antonia Murphy
This book is intended for anyone with either an interest in suicide or suicidal behaviour. It is not aimed solely at the professional psychotherapist but at a broad range of professionals who encounter suicidal people in their work. It is also intended for those of us who have been touched by suicide personally.
The book approaches suicide from the point of view of the suicidal state of mind and is intended to help us understand more about this condition. In its essence suicide is examined as a largely unconscious aggressive act having its roots in a perceived or real experience of thwarted childhood needs. The wounds of the suicidal person are often long held and deep. The suicidal person is pursued by haunting losses and the suicidal act comes from deep disturbance created by this and from the idea of death as an acting out of some form of suicidal fantasy. The quasi delusional and split quality of the act is examined - namely that suicide is both an act for and against the self. Consequently a strong case is made for the contribution of psychotherapy to the project of suicide prevention since it is in this carefully managed arena the suicidal fantasy can be examined and the settling of these scores can be worked through, rather than acted out by suicide.
The hope is that the book will increase understanding, challenge concepts of mental illness and suicidality but most importantly address the understandable fear we all have about suicide and its power to render us impotent. In turn it is hoped this will empower readers, who might otherwise be fearful of suicide, to intervene, support and work with those who are suicidal.
Reviews and Endorsements
'This is the best book available for therapists on working with people who are contemplating suicide, or with those bereaved as a result of it. Suicide is explored from personal and societal angles in a manner that is honest, lucid, informative and deeply based in considerable clinical and training experience. The book is also an exceptionally frank testament to both the frighteningly insecure and the more reassuringly solid aspects of being human. I was moved, educated and challenged.'
- Andrew Samuels, former chair of the UK Council for Psychotherapy and author of A New Therapy for Politics?

'Read this book. If it succeeds in making you feel less fearful and more curious about suicide, then it will have achieved its purpose. Clearly written and thought provoking, Antonia Murphy reminds us that suicide is not an illness, and through weaving together personal insight, professional experience, and a review of the writing on suicide, she gives us an accessible account of our current understanding of suicidal states of mind.'
- Jane Rosoman, consultant counsellor, Improving Access to Psychological Therapies, Ealing

'We met Antonia having set up a charity following the tragic, unexpected, and devastating death of our 21-year-old son James. James was a student at Newcastle University and we recognised how important it was to support the valuable training that Counsellors and Psychotherapists in Primary Care (CPC) were offering to university staff. Through Antonia's own personal experience, her journey of working with the complex issue of suicide and subsequent wealth of knowledge gained, she has produced a book that will shed light onto this dark and difficult subject, and give the reader a much clearer understanding of it.'
- Clare Milford Haven, founder and trustee of the James Wentworth-Stanley Memorial Fund

'A really good weaving together of the personal, theoretical and practical. And it's really accessible and sensible and will make people feel less scared. I've been recommending it to people. Thanks for writing it. It's really good. I hope it sells bucket loads!'
- Nick Luxmore, psychotherapist and trainer working with adolescents

'My husband had a saying that the light at the end of the tunnel was that of an on-coming train. He took his life in 1993. My brother took his own life in 1986 aged only 23. Your book gave voice to so much that I had thought about and processed over the years the complexities that a human being has in how/why they take the ultimate death decision. Internalised anguish and thwarted psychological needs. Tunnel vision where everyone is shut out of their thinking – a rage against their world, to those who they feel don't care enough, where everyone would be better off without them in their uselessness. I have always felt that they didn't have the underlying resilience/safety/love of themselves within to cope or ask for help in a way that they felt others would understand... I didn't feel that sense of guilt for either death although if odd things had been different at the time then perhaps outcomes would have been different. So regrets yes... I have done workshops around suicide: the myths, risk factors, keeping ourselves, as professionals, safe but at the heart of it my aim has always been to lift the taboo and enable others to engage with someone who has suicidal thoughts and not be fearful of it. This is an area that I would like to explore further and your book has given me much to think about and reflect on. Thank you.'
- Anonymous counsellor

'What a relief to read your book! My relief emanates from frustration that you have raised the subject of the unconscious and the internal world, both concepts totally absent in all the strategies, awareness projects and so on, and therefore for me, missing the vital components of suicide yet never mentioned. I fear that so much money (because that seems to be how we measure human life and worth) time and of course lives are wasted by bureaucracy and vain attempts to find the definitive risk assessment form in order to reach Zero Suicide - a term that really distresses me because it sounds so seductive, yet to me, it trivialises the act of suicide as well as being unattainable and adding pressure to those involved with suicidal people -when given the opportunity.
Another great relief is your wanting to separate suicide from mental illness. I absolutely agree that whilst there may be overlaps in some people, the notion of mental illness will alienate many people who are grappling with the an existential questions around life and death - not that abnormal and mostly resolved to a greater or lesser degree that doesn't end in suicide. I am concerned that all these programmes of suicide awareness and so on do not have very much to offer if anyone does try to get help.
I also thought you trod most diplomatically when considering those bereaved by suicide. Congratulations on your brilliant book. How are you going to get your message across that you can't assess suicidal intention by asking questions and ticking boxes. My own experience is that asking somebody if he or she was suicidal was not the best way of assessing risk, but having a good and wide understanding of suicide and checking a person's own narrative with the knowledge in one's own head helped - as you've said assessing suicidal risk is about about a relationship.'
- Paddy Bazeley, former director of Maytree, a respite centre for the suicidal
About the Author(s)
Antonia Murphy is a registered UKCP intersubjective psychotherapist and supervisor, with over twenty-five years of clinical experience in the NHS, the third sector, and private practice. As well as her clinical work, Antonia managed the primary care counselling service in Derbyshire from 1998-2006, and was a founding director of Counsellors and Psychotherapists in Primary Care (CPC) and chair of the UKCP PCIP college training assessment committee until 2015. Her training portfolio includes course design and delivery of CPC's multi-modality supervision training programme, and more recently she has developed her long-term clinical interest in working with suicide into a training which has been delivered to over forty universities and other settings. She is the former editor of the Journal for the Foundation of Psychotherapy and Counselling, an editorial board member of the Journal of Psychodynamic Practice, and co-author (with Joan Foster) of Psychological Therapies in Primary Car : Setting up a Managed Service.
You may also like