On Loving, Hating, and Living Well: The Public Psychoanalytic Lectures of Ralph R. Greenson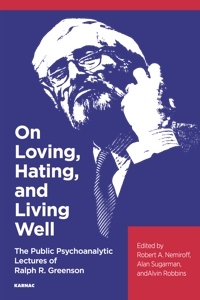 Book Details
Publisher : Routledge
Published : August 2016
Cover : Paperback
Pages : 382
Category :
Psychoanalysis
Catalogue No : 38826
ISBN 13 : 9781782204626
Also by Ralph R. Greenson
Also by Robert A. Nemiroff Ralph R. Greenson, MD, was perhaps psychoanalysis's most gifted and eloquent spokesperson. In this volume Dr Greenson is presented in one of the roles he enjoyed most: communicating to a lay audience his understanding of people and life and his insights into the science and art of psychoanalysis. These important talks profoundly influenced countless professional workers and lay people.
The twenty-four public lectures in this remarkable collection are each a gem of wisdom and humor. With deep psychoanalytic wisdom Greenson addresses such timeless and universal human concerns as love and emotional development; hate, aggression, and war; masculinity, femininity, and sexuality; jealousy, envy, and possessiveness; and the vicissitudes of child rearing and family development.
Reading these entertaining public talks of Greenson's now is like reading a chronicle of the great psychosocial issues of the past half-century. One is impressed with not only the wisdom they offer for our current concerns, but also with how revolutionary, original, and prophetic was his thinking.
Reviews and Endorsements
'Since the birth of psychoanalysis, one of the great challenges in our field has been to communicate psychoanalytic ideas to the general public. Indeed, a perennial public relations problem in psychoanalysis has been the tendency of its practitioners to speak in obfuscating jargon rather than in plain English. Fortunately for all of us, Ralph Greenson was a master translator of complex psychoanalytic concepts for the general public. On far-ranging topics, such as love, death, hate, and religion, to name only a few, Greenson demonstrates the "uncommon sense" that is emblematic of the psychoanalytic point of view. Greenson's brilliance, wit, and humanity can now be enjoyed by a whole new generation of readers.'
—Glen O. Gabbard, MD

'What a pleasure it is to renew my acquaintance with these remarkable and absorbing lectures for the public written by an undisputed master of the profession. I was delighted to find on reading these lectures that they had lost none of their freshness and relevance. Ralph Greenson comes through in his lectures as passionate, invested, and filled with healthy assertiveness, even hate, as well as affection and love. What is truly amazing is that the spellbinding and always controversial speaker that he was is retained in print.'
—Morton Shane, MD

'From the conflictual tumult of patients' emotions and relationships, psychoanalysts can draw meaningful reflections on the human condition. Ralph Greenson was a master at communicating these reflections to the public as well as to his students and colleagues. I became a psychoanalyst, in part, from hearing his radio lectures on public broadcasting while I was in school. I cherish reading them now in this volume.'
—Mardi J. Horowitz, MD
About the Author(s)
Ralph R. Greenson (1911–1979) was Clinical Professor of Psychiatry at the UCLA School of Medicine, Los Angeles, a member of the American Psychoanalytic Association, and a Training Analyst at the Los Angeles Institute for Psychoanalysis. He was a former Dean of the Training School, past President of the Los Angeles Psychoanalytic Society, and former Chairman of the Scientific Advisory Committee, Foundation for Research in Psychoanalysis, Beverly Hills.
You may also like