On Becoming a Psychotherapist: The Personal and Professional Journey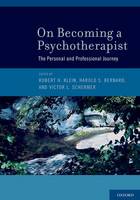 Book Details
Publisher : Oxford University Press
Published : January 2011
Cover : Hardback
Pages : 352
Category :
Individual Psychotherapy
Catalogue No : 32412
ISBN 13 : 9780199736393
ISBN 10 : 0199736391
Also by Robert H. Klein
Also by Victor L. Schermer
Psychotherapists have long debated about the personal and educational experiences that best prepare one for success in their profession. Does some precise combination of genetic endowment and training enable one to thrive as a psychotherapist? Are early experiences important? What about the psychotherapists own psychotherapy? These are issues of significance not only to mental health professionals but also to those who rely on the quality of their services. On Becoming a Psychotherapist explores how psychotherapists develop as practitioners through both professional training and the training that can only be obtained through personal experience. Drawing on the expertise of acknowledged leaders in the field, each chapter examines a particular set of personal experiences or educational pursuits that impacts psychotherapist development and practice. Among those considered are the relevant life events of psychotherapists that occur both prior to undertaking clinical work and as their careers evolve; the importance of supervision and mentoring; the contribution of one's personal treatment experiences; the incorporation of research findings into ones therapeutic approach; and the socio-economic and cultural contexts that influence therapist development. Shedding light on how these components are effectively organized and integrated into professional practice, the book addresses current controversies that surround what constitutes the optimal set of experiences and characteristics for the developing psychotherapist. The result is a vital resource for directors of training, clinical supervisors, and psychotherapists interested in understanding how and why they have become the clinicians they are today.
Reviews and Endorsements
'This carefully designed and thoughtfully integrated volume brings together recognized experts who draw on their rich clinical experience and on relevant research to illuminate diverse aspects of psychotherapist training and development. Valuable and highly recommended, this is worthwhile for anyone engaged in selecting, teaching, supervising, and mentoring therapists prepared to meet the challenges of contemporary clinical practice.'
- David E. Orlinsky, Ph.D., Professor, Department of Comparative Human Development, University of Chicago, Past-president of the Society for Psychotherapy Research, and co-author of How Psychotherapists Develop and The Psychotherapist's Own Psychotherapy

'Brilliantly and passionately conceived, this survey of the main parameters of becoming a psychotherapist is both comprehensive and erudite. An appreciation of the importance of traumatic experience in the lives of both patient and therapist suffuses the entire volume, which is skillfully constructed for students and their teachers as well as their patients.'
- Earl Hopper, Ph.D., Institute of Group Analysis, London

'This is a sophisticated, yet very readable book, which carefully focuses on what it takes to become a skilful and successful psychotherapist. The authors represent an experienced group of clinicians, who are well known in the professional literature for their writings and well known in their clinical settings for their expertise as therapists and supervisors. They have a wealth of valuable information and experiences to share about becoming a psychotherapist. For the reader, who wishes to learn more about the interesting process of becoming a psychotherapist, this book is an excellent resource.'
- William E. Piper, Ph.D., Professor and Director of the Psychotherapy Program, Department of Psychiatry, University of British Columbia

'This volume takes a major step in elucidating who we as psychotherapists are. Reading On Becoming a Psychotherapist stimulates a personal assessment of ones own psychotherapist self, a useful endeavor for students and seasoned clinicians alike. This masterful effort truly adds punch to the prodding for the reader to do a self-assessment.'
- Bonnie J. Buchele, Ph.D., Training and Supervising Psychoanalyst, Past President and Distinguished Fellow, American Group Psychotherapy Association
About the Editor(s)
Victor L. Schermer, MA, LFAGPA, is a psychoanalytic psychotherapist in Philadelphia, PA, in the practice of individual, group, and family psychotherapy. He received a masters degree in Psychology from the University of Pennsylvania and Certification with Honours in Psychoanalytic Psychotherapy from the Institute for Psychoanalytic Psychotherapies, where he later served as a faculty member. He is a life fellow of the American Group Psychotherapy Association (AGPA). In 2002 he was co-recipient of the Alonso Award for scholarship in the field of dynamic group psychotherapy awarded by the Group Psychotherapy Foundation of AGPA. He is on the editorial board of the International Journal of Group Psychotherapy and has published seven books and over forty journal articles and reviews about psychoanalysis, group psychotherapy, object relations theory, self psychology, psycho-spirituality, and the psychoanalytic interpretation of poetry and cinema.
You may also like