On Attachment: The View from Developmental Psychology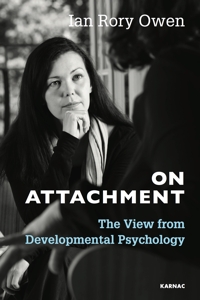 Also by Ian Rory Owen
Attachment theory occupies an integrative position between psychodynamic therapy and various perspectives within empirical psychology. Since therapy began, its way of thinking has been to interpret mental processes in relation to meaningful psychological objects between children and parents, partners, friends, and within individual therapy.
This volume summarises the research literature relating to attachment theory in developmental psychology in order to clarify conclusions that support practice. Part I considers the received wisdom about attachment, and summarises the literature and what it means for understanding relationships and defences as part of development. Part II considers attachment in relation to emotional regulations, while part III applies the clarified understanding of attachment processes to inform assessment and therapy, and more broadly, mental health work in general. The ideas of Sigmund Freud and John Bowlby are used to reinvigorate psychodynamic practice.
Reviews and Endorsements
'A very welcome book on attachment from Ian Rory Owen – a psychotherapist and a prominent author. Owen is pointing us in the fundamental direction of interpersonal relationships and our continuous attachment to others, that is, to our developmental, human condition.'
- Magnus Englander, PhD, Associate Professor of Psychology, Malmö University, Sweden

'In writing this book, Ian Rory Owen has not only challenged many mainstream fervently held beliefs in this regard, but has also provided case examples that elegantly reveal and effectively deal with the negative existential effects of inadequate attachment experiences in one's childhood and formative years. Dr Owen's work is readily accessible to the layperson, owing largely to his eloquent style of writing, even though this work essentially remains a high-level, well-conceptualised and argued text which is highly recommended reading for mental health and social care professionals, as it is sure to illuminate many of their cases.'
- Christopher R. Stones, Professor Emeritus (Psychology), Rhodes University, and former Professor of Psychology, University of Johannesburg
About the Author(s)
Ian Rory Owen was born in New Zealand in 1960 and holds a first degree in engineering and a masters and PhD in counselling and psychotherapy. He has qualifications in cognitive behavioural therapy and medical anthropology. Previously he was a senior lecturer in counselling psychology at Wolverhampton University. Since 2001 he has been a principal psychotherapist in the NHS in Leeds. He practices brief individual therapy with people with complex psychological needs.
You may also like