Old and New Horizons of Sandplay Therapy: Mindfulness and Neural Integration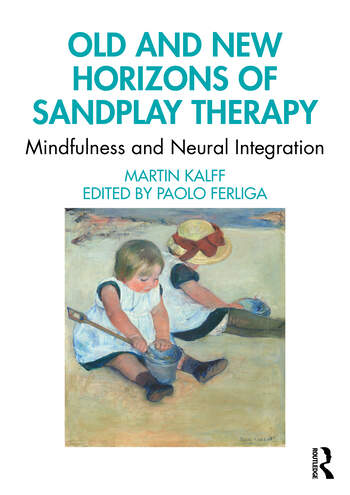 This thoughtful and comprehensive book sheds new light on Sandplay Therapy, a method founded in the 1960s by Dora Kalff. It is based on the psychology of C.G. Jung and Margaret Lowenfeld, with inspiration from eastern contemplative traditions. This method is effectively used for psychotherapy, psychological counselling and development of the personality with children and adults. This book grew out of the collaboration of a supervision and research group with Italian therapists which regularly met for a period of over 10 years under the guidance of Martin Kalff. It focuses on how to understand in more depth the processes clients experience in Sandplay Therapy.
An important feature of Sandplay is the possibility to create scenes in a box with sand. Worlds arise through the shaping of the sand and the use of miniatures, humans, animals, trees, etc. These creations manifest inner conflicts as well as untouched healing potential. This book discusses a number of techniques based on mindfulness such as 'spontaneous embodiment', the use of colours, spontaneous poetry, 'entering into the dream', to understand the work done in a Sandplay process and dreams and presents examples of clinical cases. These techniques are not only valuable for supervision but can also be used in therapy to help clients reconnect with body and feelings.
Reviews and Endorsements
"Old and New Horizons is a beautiful depiction of using mindfulness in Sandplay. The depth and intimacy of these cases is enriched by the mindful attention of both clients and therapists. There is much to benefit from and much to learn from this integrated approach." - Jack Kornfield, PhD, Teacher of Vipassana Meditation, writer, co-founder of Insight Meditation Society in Barre, Massachussets and of Spirit Rock Meditation Center in Woodacre, California.

"Martin Kalff introduces a profound, fresh approach to case study deeply rooted in the wisdom of the body and a lifetime of meditation practice and international teaching. Readers will take an enchanting journey into Kalff's consultation room with his Italian colleagues that stimulates the brain, opens the heart, and wraps a warm blanket around the soul. His masterful weaving of depth psychology, neuroscience, and mindfulness techniques make this seminal work for sandplay therapists a useful resource for psychotherapists and supervisors across disciplines." - Lorraine Razzi Freedle, PhD, American Board of Pediatric Neuropsychology (ABPdN), President of Sandplay Therapists of America.

"With thoroughness and sensitivity, Martin Kalff introduces new theories and perspectives impacting knowledge of Sandplay Therapy. His many years of experience as a therapist, meditation teacher, and consultant bring fresh viewpoints into focus. Examples from clinical sandplay sessions, as well as the work of his colleagues illustrate a deep convergence of Jungian depth psychology, meditation practices, mindfulness, and neural integration. Careful analysis of the somatic experiences of client and therapist, as a clinical dyad, invite a new lens in which to observe and appreciate emerging ideas in this unique therapy." - Judy D. Zappacosta, Marriage, Family, Child Therapist, Certified Teaching Member of International Society for Sandplay Therapy (ISST) and of Sandplay Therapists of America (STA).
About the Author(s)
Martin Kalff is a Sandplay Therapist and teacher of meditation. He is a teaching and founding member of the International and Swiss National Society of Sandplay Therapy (ISST/SGSST). He teaches Sandplay in Switzerland and different countries worldwide, with an emphasis on ERCS, the Experience Related Case Study and Supervision, which he developed.
Paolo Ferliga is a Jungian Therapist, former Teacher of Philosophy and History at the High School Arnaldo in Brescia, as well as Educational Psychology at the University Bicocca in Milan. He has published several books in the field of analytical psychology. He founded Campo Maschile a research-action group exploring male identity and chairs dream-related and active imagination workshops in Italy.
You may also like