Off the Couch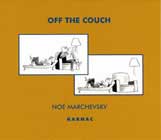 A humorous look at the world of therapy in a series of amusing cartoon drawings. The perfect present for all those interested in psychotherapy, counselling and psychoanalysis.
Reviews and Endorsements
'On the surface, Noe Marchevsky has written a comical cartoon book, but as one allows oneself to revel in the stereotypes, we realise that he has in fact brilliantly captured some of the more perverse, sadistic, and narcissistic interpretive comments still rendered by so many contemporary health practitioners.

'This book should certainly be required reading for every trainee in psychotherapy and psychoanalysis, but above all, it should be studied at length by qualified practitioners so that we may examine the ossified strategies that we use in practice, often beyond our awareness.'
- Brett Kahr, Winnicott Clinic, Senior Research Fellow in Psychotherapy, Regent's College, London
About the Author(s)
Thomas Marchevsky, Ph.D., is an editor of the European Journal of Psychoanalysis, has a psychoanalytic practice in San Francisco, California. He is Clinical Director of The Clinic Without Walls and an adjunct faculty member at the California Institute of Integral Studies (CIIS).
You may also like