No Ordinary Psychoanalyst: The Exceptional Contributions of John Rickman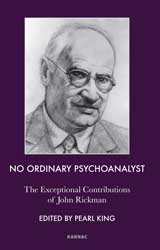 Book Details
Publisher : Routledge
Published : 2003
Cover : Paperback
Pages : 384
Category :
Psychoanalysis
Catalogue No : 17379
ISBN 13 : 9781855759206
ISBN 10 : 1855759209
Also by Pearl King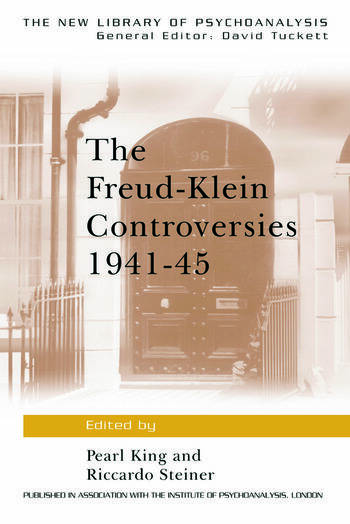 Also by John Rickman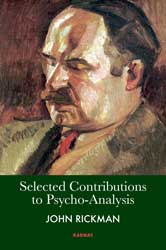 John Rickman had a deep impact on psychoanalysis, combining a deep knowledge thereof with an avid interest in social psychology, to the benefit of both. He was a fresh thinker, always innovative, with an extensive range of interests. This is an affectionate, incisive, intelligent paean to one of the greats of psychoanalysis.
Reviews and Endorsements
'Meticulously documented by Pearl King, this is a fascinating psychoanalytic history of John Rickman and his great importance in the history of psychoanalysis. A patient and student of Sigmund Freud, Sandor Ferenczi and Melanie Klein, John Rickman made exceptional contributions to psychoanalysis and psychoanalytic psychotherapy, as well as to humanitarian causes. Of special significance is his enduring influence on the development of the theory of psychoanalytic group practices and psychoanalytical applications to social processes. All those interested in psychoanalytic history as well as group psychology and its clinical applications will benefit from Pearl King's exposition of John Rickman's original thought.'
- Harold P. Blum, MD

'In following Rickman's life and development, one is also able to see the development of the British Society and Psychoanalysis in general, as well as the history of war-torn Europe in the first half of the twentieth century. I would like to congratulate the editor, Miss P. King, on her zeal in preparing this book. She recovered many un-published and lost papers; she read the correspondence and was able to delight us with the richness of a man, who, due to his own merits and the editor's intelligent effort, will not be forgotten.'
- Horacio Etchegoyen

'It is a moving and important experience to read these essays and Pearl King's exemplary introduction, in itself a key historical document. One feels one is staring into the past and finding there is a hopeful future.

'This modest-seeming book is a truly major contribution to finding a way that re-aligns psychoanalysis to the profoundest social concerns.'
- Juliet Mitchell
About the Author(s)
Pearl King (1918 -2015) trained at the Institute of Psychoanalysis from 1946 to 1950, and in 1955 became a training analyst of the British Psychoanalytical Society (BPAS). She held numerous offices within the BPAS and was the first non-medical president of the society between 1982 and 1984. She also played a significant role internationally in the organisational life of psychoanalysis, among others as Honorary Secretary of the International Psychoanalytical Association from 1957 to 1961 and of the European Psychoanalytical Federation from 1953 to 1967.

Besides her interest in the psychoanalysis of the elderly, a main focus of Pearl King's work lay in the history of psychoanalysis. From 1984 to 1994 she was Honorary Archivist of the BPAS and initiated a computerised search program concerning the history of psychoanalysis in Britain. She published a book (in collaboration with Riccardo Steiner) on the famous controversy between Melanie Klein and Anna Freud during the 1940s - The Freud-Klein Controversies 1941-1945.

In 1992, along with Hanna Segal, she was awarded the Sigourney Prize for outstanding contributions to psychoanalysis.
You may also like