Narcissus in Treatment: The Journey from Fate to Psychological Freedom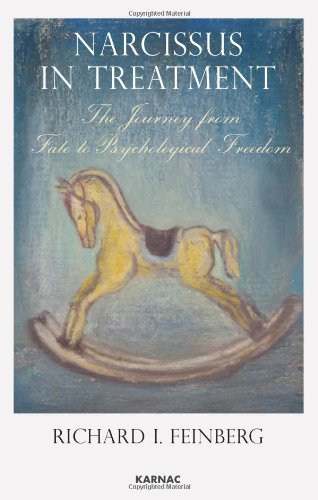 Book Details
Publisher : Routledge
Published : September 2013
Cover : Paperback
Pages : 108
Category :
Psychoanalysis
Catalogue No : 34203
ISBN 13 : 9781782200161
ISBN 10 : 1782200169
This book explores the nature of psychic suffering due to the narcissistic drama and how one can emerge over time to live an autonomous life. The narcissistic drama involves the saga of narcissistic wounding in childhood, resulting from narcissistic parenting, eventually giving way to emotional pain in adulthood marked by feelings of unworthiness and lack of genuine purpose. The dynamics of the narcissistic drama are herein demonstrated through an analysis of experience in D. H. Lawrence's autobiographical novel, Sons and Lovers. The emotional suffering depicted in this novel provides a pristine picture of the drama itself.
The focus of this book subsequently takes up the question of what narcissistically injured adults can do to become free from the constraints of this drama. This is accomplished through a discussion about the nature of therapeutic action. This discussion centres on describing a therapeutic approach to resolve psychic defenses that have led to blocks in emotional growth and the progressive formation of the mind. The aim of therapeutic action is to put old ghosts to rest and pave the way towards psychological birth and freedom.
About the Author(s)
Richard I. Feinberg, Ph.D. is a psychotherapist in private practice in Bloomfield, Connecticut with over twenty-five years of experience. He was born and raised in the New York metropolitan area. He received honors in Philosophy as an undergraduate at Trinity College in Hartford. He earned an M.S.W. from New York University and a Ph.D. from The Smith College School for Social Work. His work has encompassed outpatient clinics in Harlem and the South Bronx as well as private psychiatric hospitals such as The Austen Riggs Center. He lives in northern Connecticut with his wife and two daughters and three year-old rescued Brittany Spaniel.
You may also like