My Black Motherhood: Mental Health, Stigma, Racism and the System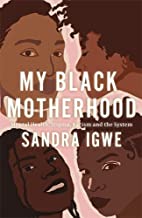 Joyful. Graceful. Blessed. Strong. Anxious. Depressed. Stigmatised. Stereotyped.
What happens when motherhood isn't what you expected - and when you reach out for support, you are met with judgment and prejudice?
Sandra Igwe shares her journey as a young Black mother, coping with sleepless nights, anxiety and loneliness after the birth of her first daughter. Burdened by cultural expectations of the 'good mother' and the 'strong Black woman' trope, her mental health struggles became an uphill battle.
Black women are at higher risk of developing postnatal depression but are the least likely to be identified as depressed. Sharing the voices of other mothers, Sandra examines how culture, racism, stigma and a lack of trust in services prevent women getting the help they need. Breaking open the conversation on motherhood, race, and mental health, she demands that Black women are listened to, believed, and understood.
Reviews and Endorsements
Reading this book is like listening to a passionate, relatable, sister friend who can help you fight your corner. Thank you, Sandra, for sharing these deeply affecting stories and for stirring up 'good trouble' on behalf of Black mothers everywhere. - Uju Asika, author of Bringing Up Race: How To Raise a Kind Child in a Prejudiced World

Sandra's book gives a wonderfully candid insight into the experiences and obstacles faced by Black mums all over the country. It's one that all health professionals need have on their bookshelves. - Marley Hall, Midwife, Speaker and Content Creator

Sandra has captured not only her own experiences but those of many other Black mothers. My Black Motherhood made me laugh, it made me cry, but above all made me think and question. - Marian Knight, Professor of Maternal and Child Population Health, University of Oxford

An eye-opening read giving a platform to unheard voices, brilliantly highlighting the challenges Black mothers face, and offering tangible solutions. Everyone has something to learn from this book. - Jess Austin, First-Person and Opinion Editor, Metro.co.uk

Honest and raw, it really gave me a true insight into the challenges for Black mothers in the UK. A must read for anyone working in perinatal services. - Kicki Hansard, Doula and author of The Secrets of Birth
About the Author(s)
Sandra Igwe is the Founder of The Motherhood Group, a platform and safe space to support the Black motherhood experience, through events, workshops, peer-to-peer support, collaborative projects, training, advocacy and campaigning. Sandra is co-chair of the National Inquiry into Racial Injustice in Maternity Care and a trustee of Birthrights charity.
You may also like