Multi-Family Therapy for Anorexia Nervosa: A Treatment Manual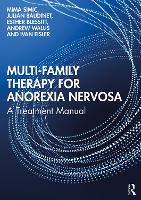 Also by Mima Simic
Multi-Family Therapy for Anorexia Nervosa is a treatment manual that details an empirically supported and innovative treatment for this disorder.
This book provides a detailed description of the theory and clinical practice of MFT-AN. The treatment draws on the Maudsley Family Therapy for Anorexia Nervosa model as well as integrating other psychological and group frameworks. Part I details the theoretical concepts, MFT-AN structure, content and implementation, including clinically rich and detailed guidance on group facilitation, therapeutic technique and troubleshooting when the group process encounters difficulties. Part III provides step-by-step instructions for the group activities in the initial four-day intensive workshop and for the subsequent follow-up days that occur over a further six to eight months.
The book will serve as a practical guide for both experienced and new clinicians working with children and adolescents with eating disorders and their families, in utilising multi-family therapy in their clinical practice.
Reviews and Endorsements
'Based on unique clinical experience, this comprehensive guide brilliantly sets out the concepts and techniques of the multi-family therapy approach and it also provides a most welcome and detailed pragmatic advice on how to use innovative group activities - an absolute MUST for anyone working with eating disordered children, adolescents and their families.' - Eia Asen, MD, FRCPsych, Consultant Child, Adolescent and Adult Psychiatrist, Anna Freud Centre and Visiting Professor, University College, London.

'In this treatment manual, this eminent group of authors - internationally recognized experts on eating disorders and multi-family therapy - has created an extremely rich clinical resource that will be invaluable to clinicians. Grounded in research and theory on eating disorders and group therapy, it includes a description of the background and structure of multi-family therapy followed by a comprehensive outline of specific group interventions with enough detail to allow for replication in various clinical settings. The publication of this book will facilitate dissemination of this important therapeutic approach and will open the doors to essential research on this useful and effective intervention.' - , PHD, FAED, Director of Research, Eating Recovery Center/Pathlight Mood and Anxiety Centers and Associate Professor, Northwestern University.

'This outstanding manual has been written by leaders in family therapy for anorexia nervosa. It offers new and effective advances in treatment for this disorder. It should be on the bookshelves of every practitioner in the eating disorders field.' - Walter H. Kaye, MD, FAED, Distinguished Professor of Psychiatry, University of California San Diego and Interim Co-Director of the Clinical Division. Founder and Executive Director, UCSD Eating Disorder Research and Treatment Program.

'The seasoned team from the Maudsley Hospital have put together a comprehensive treatment manual to guide clinicians in multi-family therapy for anorexia nervosa. This manual embodies work that was first pioneered by Professor Eisler and colleagues several decades ago now and represents the deliberate and thoughtful clinical steps that have been honed over decades of their work in this domain. This manual deserves a special spot on the book shelve of every clinician and educator of family therapy for anorexia nervosa.' - Daniel Le Grange, PhD, FAED, Benioff UCSF Professor in Children's Health, Director, Eating Disorders Program, Department of Psychiatry and Behavioral Sciences, UCSF Weill Institute for Neurosciences, University of California San Francisco.
About the Author(s)
Mima Simic is Joint Head at the Maudsley Centre for Child and Adolescent Eating Disorders and a Consultant Child and Adolescent Psychiatrist. She is an internationally recognised expert and trainer in the field of child and adolescent eating disorders.
Julian Baudinet is a Principal Clinical Psychologist with expertise in family therapy and multi-family therapy for adolescents with eating disorders. Alongside his clinical work he is actively involved in treatment and service development, research, teaching and training.
Esther Blessitt is a Principal Systemic Psychotherapist and a team manager in the Maudsley outpatient treatment team. Alongside her clinical work Esther also trains others in the Maudsley eating disorders treatment models.
Ivan Eisler is Professor of Family Psychology and Family Therapy at King's College London. He is known internationally as a leading developer, researcher and trainer of evidence-based psychotherapies for eating disorders. Ivan has received a number of awards including Academy for Eating Disorders Outstanding Clinician Award, BEAT Lifetime Achievement Award and American Family Therapy Academy Distinguished Contribution to Family Research.
You may also like