Mindfulness-Based Relapse Prevention for Addictive Behaviors: A Clinician's Guide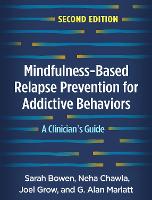 Book Details
Publisher : Guilford Press
Published : April 2021
Cover : Paperback
Pages : 204
Category :
Addictions
Category 2 :
Mindfulness
Catalogue No : 95586
ISBN 13 : 9781462545315
ISBN 10 : 9781462545
This authoritative book--now revised and expanded with important clinical and research advances--presents a proven approach for helping people meet the day-to-day challenges of recovery from addiction and maximize their well-being. Mindfulness-based relapse prevention (MBRP) integrates carefully tailored meditation practices with cognitive and behavioral skills building. In a convenient large-size format, the book includes instructions for setting up and running MBRP groups, session-by-session implementation guidelines, sample scripts, and 27 reproducible handouts and forms. Purchasers can download and print the reproducible materials at the companion website, which also features audio recordings of the guided practices. A separate website for clients provides the audio files only.
New to This Edition:
*Reflects clinical refinements, the growing MBRP evidence base, and advances in knowledge about both addictive behaviors and mindfulness.
*Section on cutting-edge topics--culturally responsive adaptations, alternative group formats and settings, dual diagnosis groups, behavioral addictions, and uses of technology.
*Reproducible appendices: MBRP Fidelity Scale and quick-reference guide to the intentions of each session.
*Audio recordings now available online.
Reviews and Endorsements
"MBRP was a frontrunner in the application of mindfulness and self-acceptance theory to the challenges that people face when they become caught up in addictive substances and behaviors. This updated second edition reflects the continued growth of the conceptual foundations of MBRP. It extends the work of the first edition in rich and meaningful ways, encompassing ongoing research, adaptation to different formats, and ever-broader clinical applications. As in the first edition, the attention to and sharing of detail is impressive, making this a truly state-of-the-art teaching volume for advanced students and training resource for professionals." - Jean L. Kristeller, PhD, founder, Mindfulness-Based Eating Awareness Training (MB-EAT); Department of Psychology (Emerita), Indiana State University.

"In the decade since this book was originally published, MBRP has gained considerably more empirical support. The expanded second edition represents an important update. It explains the rationale and theoretical underpinnings of MBRP and provides a session-by-session 'how-to' guide. This book is an extremely important tool for clinicians who choose to use MBRP in their practice and for students who want to learn more about this well-established, evidence-based practice." - Dennis M. Donovan, PhD, Department of Psychiatry and Behavioral Sciences (Emeritus), University of Washington School of Medicine.

"This book continues to be the best available resource for establishing and maintaining an MBRP practice. All chapters are clearly written and easy to follow. In addition to detailing the content of each session, the authors effectively prepare the reader for the individual and group dynamics (including common challenges) likely to manifest in most, if not all, MBRP groups. The second edition reflects wisdom gained from an additional decade of author experience and practice, as well as the vast amount of research on MBRP and addictions published since the first edition." - Bruce S. Liese, PhD, ABPP, Professor of Family Medicine and Psychiatry, and Clinical Director, Cofrin Logan Center for Addiction Research and Treatment, University of Kansas.
About the Author(s)
Sarah Bowen, PhD, a clinical psychologist, is Associate Professor at Pacific University in Portland, Oregon. She is a long time Research Fellow with the Mind and Life Institute and Trainer at the Center for Mindfulness at the University of California, San Diego. Dr. Bowen specializes in mindfulness-based approaches for treatment of addictive behaviors. Her research and more than 50 publications have focused on mechanisms of change and on treatment adaptations to best serve diverse populations and settings, with particular interests in dual diagnosis and underserved communities. Dr. Bowen facilitates and supervises mindfulness-based relapse prevention groups in numerous settings, including private and county treatment agencies, medical centers, and prisons. She presents, consults, and teaches internationally.
You may also like