Migration and Intercultural Psychoanalysis: Unconscious Forces and Clinical Issues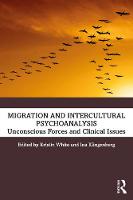 Book Details
Publisher : Routledge
Published : November 2020
Cover : Paperback
Pages : 150
Category :
Psychoanalysis
Catalogue No : 95389
ISBN 13 : 9780367634414
ISBN 10 : 0367634414
How does migration affect us in the deeper layers of our minds, where forces are at work that affect our mental and physical health, our experiences in the world and our behaviour?
This edited volume brings together contributions on the social, historical and personal aspects of migration from a psychoanalytic viewpoint. Clinical perspective is combined with a wider view that makes use of psychoanalytic concepts and experience to understand problematic issues around migration today. Later chapters take the historical background into account: the history of psychoanalysis itself is a history of migration, beginning with Freud's experiences of migration, in particular his escape from Vienna to London at the end of his life, to answer questions regarding migration, refugees, living in a 'multicultural society' and living in a 'foreign culture'.
Taking on the challenge of looking at the multi-layered, often subtle, yet powerful emotional and unconscious layers of meaning around migration, this book brings together practice and theory and will be of great interest to psychoanalysts, psychotherapists and those with an interest in the working of the mind in an intercultural context.
About the Editor(s)
Kristin White is a psychoanalyst working with adults and children in her practice in Berlin, Germany. She is also a training analyst, lecturer and supervisor at the Alfred Adler training institute for psychoanalysis and psychotherapy in Berlin and a training member of the German Society for Psychoanalysis and Psychotherapy (DGPT).
Ina Klingenberg is a psychoanalyst and psychotherapist in Berlin, Germany. She took her psychoanalytic training in Berlin and Michigan and has a Masters in Psychoanalytic Cultural Science, Humboldt University. She has worked in cooperation with various organisations that provide support for refugees and migrants and is a trainee member of the German psychoanalytic associations DPG and DGPT.
You may also like