Meaning, Mind, and Self-Transformation: Psychoanalytic Interpretation and the Interpretation of Psychoanalysis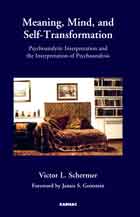 Book Details
Publisher : Routledge
Published : May 2014
Cover : Paperback
Pages : 336
Category :
Psychoanalysis
Catalogue No : 33074
ISBN 13 : 9781780491127
ISBN 10 : 1780491123
Also by Victor L. Schermer


Interpretation is the primary intervention of psychoanalysis. Until now it has been discussed almost exclusively from a technical standpoint, rather than its relationship to the mind, human life, and how it affects the personality. This book explores the intrinsic nature of interpretation in psychoanalysis. For that purpose, two streams of thought are brought into dialogue with one another: Anglo-American psychoanalysis and Continental European philosophical hermeneutics, the study of meaning and interpretation.
This book celebrates and makes explicit the value of interchanges between the paradigm of science and philosophical hermeneutics. It is divided into three sections, preceded by a discussion of the relationship between psychoanalysis, hermeneutics, and the sciences, with psychoanalysis at a crossroads seeking a new path. Part I starts with a consideration of Freud's methodology in The Interpretation of Dreams, moving to a review of ancient, romantic, and modern theories of interpretation as they relate to psychoanalysis. Part II, largely intended for clinicians, provides a hermeneutical view of the psychoanalytic situation, the dimensions and polarities of treatment, the components of the unfolding process, and a discussion of self-transformation and personality change. Part III, which may be read as a series of independent essays, offers reflections on selected Anglo-American schools of psychoanalysis from the standpoint of philosophical hermeneutics. Included are examinations of the work of Melanie Klein, Donald Winnicott, and W.R. Bion, as well as explorations of relational psychoanalysis, intersubjectivity, and neuroscience.
Reviews and Endorsements
'I applaud this valuable book that seeks to loosen the grip of scientism on traditional Anglo-American psychoanalysis by arguing persuasively that it is a hermeneutic discipline with interpretation lying at the core of its method. Victor Schermer adds his voice to the growing number of contemporary authors who wish to help psychoanalysis find its rightful place among the human sciences.'
— Robert D. Stolorow, PhD, author of World, Affectivity, Trauma: Heidegger and Post-Cartesian Psychoanalysis

'Victor Schermer's book describes the journey between scientific causality and hermeneutic meaning. Starting with Freud's undeniable contribution to hermeneutics – the understanding of dreams as meaningful wishes fulfilled – this book grasps a vast swathe of European philosophy, from Herder to Husserl and beyond. Freud and later psychoanalysts, especially in the object relations tradition of Winnicott and Bion, have shown that the human contribution to nature is to have experiences and to construct narratives. Psychoanalysis must prioritise that. The core of the book for me is the Heideggerian sense of being in the world of the other and with the other. The Talmudic inspiration for Freud's dissection of dreams is well known, but here, it is modern hermeneutics that gives psychoanalysis its true philosophical foundation in the Continental tradition. For psychoanalysts, there is an education here in this branch of philosophy.'
— Robert D. Hinshelwood, PhD, author of Research on the Couch: Single Case Studies, Subjectivity, and Psychoanalytic Knowledge

'This book manages to cover a huge field – hermeneutics – in a thoughtfully focused manner that whilst not fully inclusive (how could it be?) is remarkably wide ranging. The act of interpretation is too often put in the margins of other actions within the psychoanalytical field, but Victor Schermer returns it to the limelight and any reader interested in the history and practice of psychoanalysis, within the larger field of hermeneutics, will be fascinated by his study.'
—Christopher Bollas, PhD, author of The Freudian Moment
About the Author(s)
Victor L. Schermer, MA, LFAGPA, is a psychoanalytic psychotherapist in Philadelphia, PA, in the practice of individual, group, and family psychotherapy. He received a masters degree in Psychology from the University of Pennsylvania and Certification with Honours in Psychoanalytic Psychotherapy from the Institute for Psychoanalytic Psychotherapies, where he later served as a faculty member. He is a life fellow of the American Group Psychotherapy Association (AGPA). In 2002 he was co-recipient of the Alonso Award for scholarship in the field of dynamic group psychotherapy awarded by the Group Psychotherapy Foundation of AGPA. He is on the editorial board of the International Journal of Group Psychotherapy and has published seven books and over forty journal articles and reviews about psychoanalysis, group psychotherapy, object relations theory, self psychology, psycho-spirituality, and the psychoanalytic interpretation of poetry and cinema.
You may also like