Managing Low Self-Esteem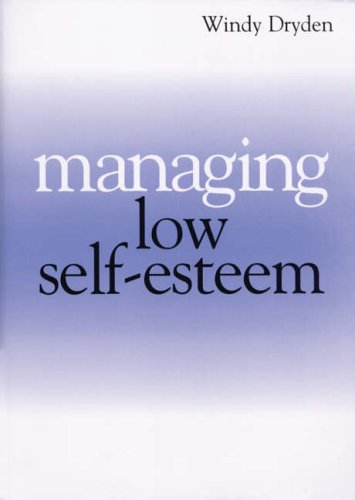 Book Details
Publisher : Whurr Publishers
Published : January 2003
Cover : Paperback
Pages : 180
Category :
Individual Psychotherapy
Catalogue No : 91366
ISBN 13 : 9781861563903
ISBN 10 : 1861563906
Also by Windy Dryden


Managing Low Self Esteem charts Windy Dryden's work in running brief, structured, educationally-orientated, self-acceptance groups. The book is based on the principles of Rational Emotive Behaviour - an approach to counselling and psychotherapy. This approach has a philosophical position in the self which stresses a person's uniqueness, humanity, complexity and fallibility. In this way, it advocates self-acceptance rather than self-esteem. It also argues that this position can be taught and learned in a short peiod of time. Through detailed session reviews, the book shows how unconditional self-acceptance can be taught not only to psychotherapy clients, but to members of the general public.
Reviews and Endorsements
Contents:
Part 1 Principles and preparing the ground: the situational ABCDE model of REBT; low self-esteem and the REBT view of unconditional self-acceptance; running self-acceptance groups - the role of the REBT therapist; setting up a self-acceptance group.
Part 2 The therapeutic curriculum in self-acceptance groups: why self-acceptance and not self-esteem?; specifying target problems and setting goals; teaching group members; how to assess specific examples of their target problems; questioning group members; how to assess specific examples of their target problems; questioning demands, self-depreciating beliefs and their healthy alternatives; explaining the process of belief change and teaching the rational portfolio method; teaching the zig zag technique; three emotive techniques to facilitate change; the conjoint use of cognitive and behavioural techniques; more cognitive-behavioural tasks and shame-attacking exercises; distorted inferences - how to challenge these products of irrational beliefs; ending, evaluation and beyond.
About the Author(s)
Windy Dryden was the first Professor of Counselling in Britain, and is now a Professor of Psychotherapeutic Studies at Goldsmiths College, University of London, where he runs the MSc course in Rational-Emotive and Cognitive Behaviour Therapy. He has authored or edited 195 books, and edited twenty book series. He was the founding editor of the British Journal of Cognitive Psychotherapy in 1982 and is now editor of the Journal of Rational-Emotive and Cognitive-Behavior Therapy.
You may also like