Making an Impact on Mental Health: The Applications of Psychological Research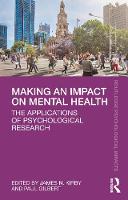 Also by Paul Gilbert

Advancements in research in psychological science have afforded great insights into how our minds work. Making an Impact on Mental Health analyses contemporary, international research to examine a number of core themes in mental health, such as mindfulness and attachment, and provides an understanding of the sources of mentally ill health and strategies for remediation.
The originality of this work is the embedding of psychological science in an evolutionary approach. Each chapter discusses the context of a specific research project, looking at the methodological and practical challenges, how the results have been interpreted and communicated, the impact and legacy of the research and the lessons learnt. As a whole, the book looks at how social environments shape who we are and how we form relationships with others, which can be detrimental, but equally a source of flourishing and well-being.
Covering a range of themes conducive to understanding and facilitating improved mental health, Making an Impact on Mental Health is invaluable reading for advanced students in clinical psychology and professionals in the mental health field.
Reviews and Endorsements
"This book is a peek inside the minds of clinical scientists who are doing cutting-edge research on attachment, compassion, shame, parenting, mindfulness, and positive psychology. The content offered on this cluster of topics is thoroughly satisfying while it inspires readers to pursue their own informed questions. Highly recommended for curious clinicians of all stripes - students, academics, and professionals." - Christopher Germer, PhD, Harvard Medical School, USA.

"Compassion focussed psychotherapy is the most promising treatment for emotion disorders that have not responded well to other therapies. This is simply the best introduction to this extraordinarily valuable approach. It is highly recommended for experienced practitioners, as well as those starting out in psychotherapeutic practice." - Professor Peter Fonagy OBE, Head of Division for Psychology and Language Sciences at UCL.

"Packed with cutting edge research, clinical wisdom and a satisfying mixture of compassionate commitment and serious scholarship, this book is a major contribution to understanding psychological wellbeing. It is a treat of a book written by experts who care for their subject deeply, and will be of great help for researchers, mental health professionals, students and many more." - Graham Music, PHD, Tavistock Clinic London, UK and author of Nurturing Children and Nurturing Natures.
About the Editor(s)
James N. Kirby is Senior Lecturer and Clinical Psychologist at the University of Queensland, Australia. He examines how compassion can help create nurturing family environments.
Paul Gilbert is Professor of Clinical Psychology, University of Derby and has been actively involved in research and treating people with shame-based and mood disorders for over 30 years. He is a past President of the British Association for Cognitive and Behavioural Psychotherapy and a fellow of the British Psychological Society and has been developing CFT for twenty years.
You may also like