LoveSex: An Integrative Model for Sexual Education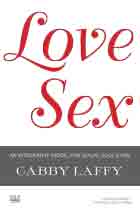 Also by Cabby Laffy
Paperback
£31.99
Usually despatched within 4-5 working days
Free UK Delivery over £25
This title has been delisted and is no longer available to purchase
This book looks at how our brains, minds, bodies, and emotions interact to create our experience of sexuality, and how we can create a sense of sexual self-esteem and a nutritious sexual diet for ourselves. This book challenges the cultural commodification of sex and sexuality, and encourages the reader to experience "being sexual" rather than "doing sex" or "looking sexy". This is crucial to our development of sexual self-esteem, particularly in an era of ubiquitous online pornography. It offers help recovering from sexual shame and the sexual abuse and violence that are so pervasive in our society, and it does all this in an affirming, accessible yet psychologically sophisticated way, making it suitable for lay readers and therapists alike.
Reviews and Endorsements
'This book is well researched, full of non-intimidating source material and backed up by unique insights drawn from the most recent advances in neuroscience. It is scholarly but accessible. The writing style is understandable and non-threatening. Somewhere between the over-sexualisation of images to sell goods and services and the moral panic about pornography and sexual license stands this excellent book—an important understanding that human sexuality is a cause for rejoicing and celebration.'
- Dr Thaddeus Birchard, Clinical Director, Marylebone Centre for Psychological Therapies

'In writing this book Cabby Laffy makes an important contribution to the field of psychosexual therapy by focussing on creating vibrant self-awareness and choice in sexuality, thereby modelling healthy expansiveness in sexual development rather than the avoidance of dysfunction. Her book is easy for anyone to understand yet sophisticated enough that even experienced therapists will have much to learn. The diagrams and illustrations are particularly helpful.'
- Dr Scilla Elworthy, author of Power and Sex

'An exciting new way of considering sexuality: as a source of energy, a topic of our time. Incorporating the individual, the social and the spiritual, the reader is invited and challenged to explore and empower themselves.'
- Aleine Ridge, transpersonal psychotherapist and Interfaith Minister
About the Author(s)
Cabby Laffy has worked as psychotherapist, psychosexual therapist, and supervisor since 1991. She works with individuals and couples and has facilitated many trainings and workshops. She is the Director of the Centre for Psychosexual Health and has created a Diploma in Integrative Psychosexual Therapy. Cabby is accredited with NCP and UKAHPP, and is a member of UKCP, PCSR and COSRT.
You may also like