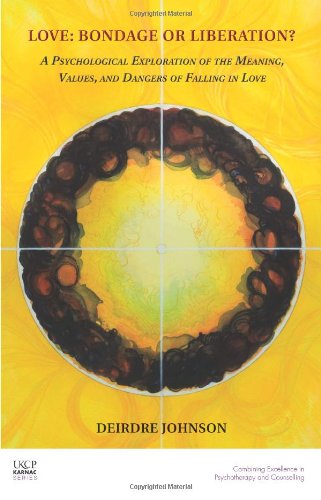 Book Details
Publisher : Routledge
Published : 2010
Cover : Paperback
Pages : 208
Category :
Family, Couple and Systemic Therapy
Catalogue No : 25498
ISBN 13 : 9781855755109
ISBN 10 : 1855755106
Much has been written about the function of falling in love in the course of therapy itself. This book has a much broader aim. Deirdre Johnson, a Jungian analyst and psychotherapy trainer, uses her teaching and clinical experience to illuminate the whole range of this near universal human experience.
How, and why, does falling in love affect us so profoundly? How can it enhance who we are, or must it ultimately fade without lasting value? Johnson argues that the many valuable studies by psychoanalysts, relational psychologists, anthropologists, neuroscientists, and philosophers have all made valuable contributions, and uses these to highlight and explore the many values and dangers inherent in passionate love. However, she claims that a more holistic approach is required to show how these various accounts can be seen as complementary rather than competing, and can be accommodated within an overarching view of the integration of the human being in its heights and depths.
Deirdre Johnson's interdisciplinary approach cuts across the different modalities and will appeal to a good cross-section of psychotherapists and counsellors, while being accessible to anyone interested in the meaning of falling in love.
Reviews and Endorsements
'What is love? Since neither philosophers, psychotherapists, even biologists, can provide a complete answer, do not expect Deirdre Johnson's book to do so. But that is what I love about it. Drawing upon a host of psychotherapeutic, literary and other sources, the author demonstrates in her theme precisely what she describes in her final words: "...love is more than any feeling; more than sexual attraction or primal instinct; more even than the longing of the soul for the divine. It is all these things and also more. It will always remain ineffable, but, as Eros, it manifests as an indefinable energy that binds our disparate inner selves into a coherent whole, that binds each individual self to society, and that binds humanity to the universe that we inhabit."'
- Michael Jacobs, author of Psychodynamic Counselling in Action, Our Desire of Unrest and Shakespeare on the Couch

About the Author(s)
Deirdre Johnson is a Training Analyst with the Association of Jungian Analysts and a member of the International Association for Analytical Psychology. She has taught counsellors and psychotherapists for a variety of UKCP and BACP training organizations and has led workshops for Continuing Professional Development in many different environments. She has had her own practice for over twenty-five years. Further work has been within the NHS and in specialist experience with ethnic minorities. She lives in London with her family.
You may also like