Living Moments: On the Work of Michael Eigen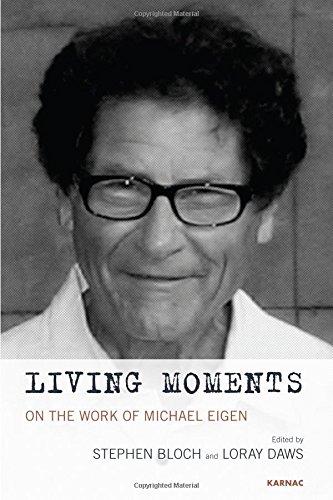 Book Details
Publisher : Routledge
Published : August 2015
Cover : Paperback
Pages : 400
Category :
Psychoanalysis
Catalogue No : 33821
ISBN 13 : 9781780491844
ISBN 10 : 1780491840
Also by James S. Grotstein
Also by Loray Daws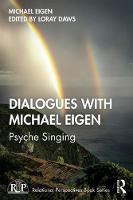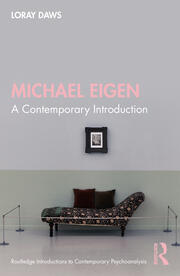 Michael Eigen is widely regarded as a significant and increasingly influential figure in contemporary psychoanalysis. This collection of papers, by contributors in the USA, Israel, Australia and South Africa, reveal how his works yield creative and generative possibilities with profound clinical and cultural implications. Writers include well-known authors such as Mark Epstein, Anthony Molino and Brent Potter.
The papers are divided into three sections: Reflections (psychoanalytic and philosophical concerns, such as Heidegger, the Hindu Goddess Kali, Buddhism, the sense of Time); Refractions (clinical implications, papers on murder and aliveness, the nature of the analytic interaction, addiction and work with the mother-infant relationship), and Responses (personal impacts of his works, as well as poetry and the thoughts of a creative writer on Eigen's oeuvre). There are also papers on the experience of supervision with Michael Eigen as well as on his weekly seminars on Bion, Winnicott and Lacan, ongoing for more than forty years, in New York. The book is a long-overdue celebration of and homage to a creative and unique figure in contemporary psychoanalysis.
With a Foreword by Dr James Grotstein, and a complete bibliography of Michael Eigen's writings compiled by Loray Daws.
Reviews and Endorsements
'Michael Eigen is one of the greatest psychoanalysts of our time. He personifies that rare hybrid of thinker who is erudite, clinically astute, and moves you as a human being in search of a soul. His ideas have shaped generations of those attempting to integrate clinical theory with a philosophy of living both in and outside of the consulting room. In this important collection, his most celebrated contributions and personal influences are brought to light in a most authentic, humbling, and inspiring dedication to his life's work and legacy.'
––Jon Mills, Professor of Psychology and Psychoanalysis, Adler Graduate Professional School, Toronto, and author of Underworlds: Philosophies of the Unconscious from Psychoanalysis to Metaphysics

'This book is a loving and deeply informed tribute to a renowned and extraordinary teacher. But it is more than that. It is also a pathway into Eigen's thought and a way to experience the transformative effect of his presence as a mentor, a guide, and a probing force. We experience – through the students' love – Eigen's love for Bion. The book will do more than introduce you to ideas, though these are important. You will learn a lot about the creative power of disruption and turbulence and the demand on the analyst to go very deeply into the awesome terrain that lies within oneself and the patient. Reading this book, a clinician or a patient will consider the necessity for faith, trust and unpredictability. By participating in this book you enter and can become part of a wondrous lineage: from Bion, through Eigen, to his students. This is the way psychoanalysis should work – the lived transmission of faith.'
––Adrienne Harris, PhD., New York University, co-editor of The Legacy of Sandor Ferenczi: From Ghost to Ancestor

'This book explores a number of fascinating approaches and subjects, in a very engaging and compelling way, and I am sure will generate a great deal of interest and discussion.'
- Rod Tweedy, editor of Karnac Books and author of The God of the Left Hemisphere
About the Editor(s)
Stephen Bloch is clinical psychologist and Jungian analyst in Cape Town, South Africa. He is a founding member of the Southern African Association of Jungian Analysts and has served on its Executive Committee, Assessment and Review, Ethics and Library Committees. He has given training seminars on transference and countertransference, dream interpretation, Klein, Winnicott, Bion and Eigen, the psychoanalytic frame, music and psychoanalysis, embodiment, psychotherapy with the meditating patient. He has published papers and reviews and co- edited with Paul Ashton Music and Psyche (Spring Publications, 2010).
Loray Daws is a clinical psychologist and psychoanalytic psychotherapist currently in private practice in British Columbia, Canada. He is founding member of the South African and British Columbia Masterson Institutes as well as a faculty member of the International Masterson Institute in New York where he completed a post-graduate training program in the disorders of the self. He has published articles on dreaming, psychosomatic disorders (burning mouth syndrome and eating disorders) and the disorders of the self in journals such as the International Journal of Psychotherapy, Issues in Psychoanalytic Psychology, South African Rorschach Journal, and Clinical Counselling and Contemporary Psychotherapy. He has supervised and taught in South Africa, Canada, the United States, Australia and Turkey and currently serves as assistant editor for the Global Journal of Health Sciences.
James S. Grotstein, M.D. was Professor of Psychiatry, U.C.L.A School of Medicine, and a training and supervising analyst at the Los Angeles Psychoanalytic Institute and at The Psychoanalytic Centre of California. He was a member of the editorial board of the International Journal of Psychoanalysis and was past North American Vice-President of the International Psychoanalytical Association. He published over 250 papers and was the author or editor/co-editor of numerous books.
You may also like