Life, Sex and Death: Selected writings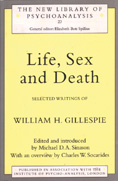 Book Details
Publisher : Routledge
Published : January 1995
Cover : Paperback
Category :
Reprinting
Category 2 :
Psychoanalysis
Catalogue No : 718
ISBN 13 : 9780415128056
ISBN 10 : 0415128056
Paperback
£33.29
This item is reprinting. You may pre-order a copy and we will send it out when it becomes available.
Free delivery worldwide
This title has been delisted and is no longer available to purchase
Dr Michael Sinason looks back on the 90, productive years of William Gillespie's life. He writes movingly of Gillespie's early years in China and Scotland, and charts his development as a psychoanalytic thinker, organizer, administrator, husband and father.
Reviews and Endorsements
Not only was Gillespie an innovator and discoverer, but a pioneer investigator whose work encompasses the entire history of accomplishments of psychoanalytic thought on perversions.' - Charles Socarides William Gillespie began analytic training in Vienna in the early 1930s and has been a pioneer in the study of sexual perversion. His views on female sexuality, regression in old people facing death, and on instinct theory have been both influential and controversial. This first edited collection of twelve of Gillespie's key papers will provide a welcome source of reference for psychoanalysts and psychotherapists in training and practice. In a specially written overview, Charles Socarides, an eminent psychoanalyst in the field of perversion and its treatment, shows how Gillespie's ideas influenced his own contribution and affected the field as a whole. The editor, Michael Sinason, contributes an eloquent biographical introduction, tracing the early influences in Gillespie's life which led to his celebrated role as a tactful and trusted advisor in negotiating the relationship between the International Psychoanalytic Association and the British Psychoanalytical Society.
You may also like