Life After Work: A Psychological Guide to a Healthy Retirement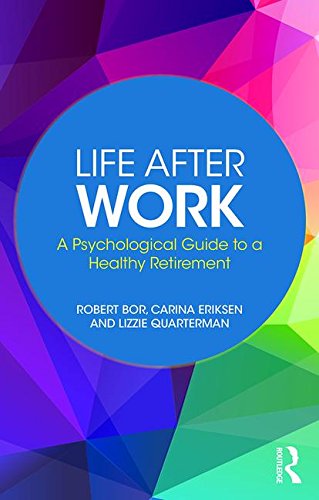 Book Details
Publisher : Routledge
Published : November 2018
Cover : Paperback
Pages : 136
Category :
Popular Psychology
Catalogue No : 93893
ISBN 13 : 9781138335851
ISBN 10 : 1138335851
Also by Robert Bor
Also by Carina Eriksen
Retirement is a comma in our lives, not a full stop. Life After Work looks at the psychological, emotional and wellbeing issues that surround this complex and important transition in life. This book suggests that retirement is a life stage over which we may have greater control than previously thought; it no longer has to be the case that retirement is a terminal point, a time where you became sedentary and inactive. Retirement is on one level a private, individual matter that affects one's sense of self and purpose, physical and mental processes, as well as financial security or provision. On another level, retirement has an impact on relationships with loved ones, family and friends, as well as colleagues. It can strengthen or disrupt bonds, leading to new bonds being formed or to withdrawal. This book is written by successful authors and psychologists Robert Bor, Carina Eriksen and Lizzie Quarterman, each with many years' experience of helping people cope with life stage changes and prepare for retirement. It contains illustrative case studies throughout, from which valuable lessons can be learned, and draws on the very latest psychological research and techniques to provide a blueprint for planning and living a wonderful retirement or life post-work. Planning for your future is crucial in enabling you to maximise the opportunities available. Following the book's blueprint will help you prepare for this phase in your life, and the sooner you start the better. Life After Work will be of great interest to readers of all ages seeking guidance on retirement and will also appeal to psychologists of life stage changes.
About the Author(s)
Robert Bor is a Director of Dynamic Change Consultants. He is a Chartered Clinical, Counselling and Health Psychologist registered with the Health and Care Professions Council. He is also a Fellow of the British Psychological Society and Member of the American Psychological Association and South African Health Professions Council. He has more than 29 years experience consulting in clinical and organisational settings in the UK and abroad, and has published over 30 books and 200 academic papers and chapters in books.

He is a UKCP Registered Family and Couples Therapist having specialised in Systemic Therapy at the Tavistock Clinic London. Rob also practices cognitive behavioural therapy and is an advocate of time limited and solution focused therapeutic approaches. In the NHS, Rob is Lead Clinical Psychologist in Medical Specialties, Infectious Disease Division at the Royal Free Hospital, London. With extensive health care experience, he and his colleagues have developed psychology services in the NHS, GP surgeries as well as in the independent health care sector. He is the Consulting Psychologist to the Leaders in Oncology Care and to the London Clinic, both in Harley Street.
Dr Carina Eriksen is a Chartered Counselling Psychologist with many years experience of the Cabin Crew profession. She holds a BSc Honours in Psychology, a Master's degree in Psychology from London Metropolitan University and a Doctorate in Counselling Psychology. Working in the NHS as well as in private practice, she provides therapy to adults, adolescents, children, and families drawing on her speciality within Cognitive Behavioural Therapy and Systemic orientations. She also offers psychological support within organisational settings, including stress management and work-life conflict. She is a visiting lecturer on the MSc in Air Transport Management at City University and has worked as a long-haul cabin crew member for a major UK airline for nearly eleven years. Her work has been published in books and scientific journals. She is a Chartered member of the British Psychological Society.
You may also like