Laughing Star: A Story of Tough Love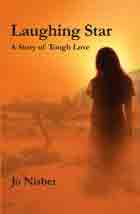 Book Details
Publisher : Karnac Books
Published : April 2013
Cover : Paperback
Pages : 254
Category :
Memoir
Catalogue No : 33130
ISBN 13 : 9781780491257
ISBN 10 : 1780491255
The story begins on the night that two security guards arrive at a house in Los Angeles, USA, to take the author's fourteen-year-old daughter Emily away to a 'Brat Camp' in Utah. Emily had become so out of control that this was a last resort in trying to help her lead a better life. She had been expelled from two schools in three months, was binge drinking, doing recreational drugs, and was sexually promiscuous and very oppositional. She was putting herself increasingly at risk, not coming home and being scooped up on a Saturday night by the police.
The narrative then backtracks to the events that led up to this night: the difficulties with Emily as a baby; the family's move to Washington, DC; Emily's first expulsion from school at the age of six and her diagnosis with Attention Deficit Hyperactive Disorder (ADHD). The strain on the family started to take its toll when, at age twelve, Emily became increasingly Oppositional Defiant. Her father worked away from home and she was becoming impossible to control. At age fourteen, she was expelled from school and went off the rails. The family had little support from Social Services and gradually began to disintegrate – no one in the family could cope with the chaos that was generated in the home. The author had a breakdown and her marriage came apart as her husband took his frustrations out on the family. Emily lasted three weeks at a boarding school. After watching a programme on Channel 4, 'Brat Camp', the family felt that this resort was the only thing left that they could do to help her turn her life around.
About the Author(s)
Jo Nisbet was born in Northamptonshire, the second of four children, and grew up mainly in suburban London and the Thames Valley. After leaving university, where she studied psychology, Jo lived in Venezuela, working as a teacher, and travelled extensively in the Caribbean and South America. She returned to London in the early eighties and began a career in Public Relations. Jo's daughter was born in 1989 and her son in 1991, both of whom were diagnosed with ADHD. Having spent some time living in Washington, DC, the family returned from the United States in 1998 to settle in London, and Jo trained as a counselling psychologist. She now runs a successful private counselling and coaching practice and frequently works with ADHD children and their families.
You may also like